Back to the Future, take II
Registrations flew in as soon as the new dates for the 2022 Cornea and Contact Lens Society (CCLS) conference were announced, with the in-person part of the hybrid event set to take off at Auckland's Hilton Hotel from 11-13 August.
The 'Looking Back to the Future'-themed programme is stacked with exciting content, catering to both ophthalmologists and optometrists, said CCLS president Eleisha Dudson. "Having our keynotes here live should be a big draw, with optometrist Damon Ezekiel and ophthalmologist Professor Gerard Sutton both being entertaining international speakers with huge knowledge and experience. We are also offering dual streams on contact-lens fitting, with 'Dr Emmett 'Doc' Brown' for the more seasoned practitioner, and 'Marty McFly' for the basics of rigid gas permeables (RGPs) and scleral lenses."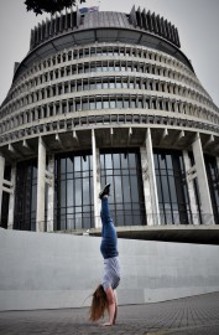 Conference programming is a balancing act, as CCLS president Eleisha Dudson illustrates
The 2022 CCLS conference also offers eyecare professionals a long-awaited opportunity to indulge in research-based learning while catching up with colleagues and friends, said Dudson. "I'm so looking forward to seeing and exchanging ideas with my fellow CCLS members. I'm always amazed at the learning that comes when our passionate members come together. The discussions always leave me with some quotable pearls of wisdom for my patients. That's what I look forward to most… plus dressing up for the dinner, of course!"
The social calendar kicks off with a welcome event in the sponsors' area on Thursday 11 August from 5-7pm, followed by breakfast on the Friday from 8-8:30am in the same spot. Then bring your 'Back to the Future' outfit and dust off your dancing shoes for Friday's conference dinner, 'Great Scott!', served up in the Hilton Hotel's Anchorage Room at 7pm.
The registration fee includes Thursday's drinks and Friday's dinner, and delegates can purchase additional tickets to bring a partner to both. Although CPD points were unconfirmed at the time of print, virtual attendees' points will be awarded by passing a multiple-choice test to confirm attendance.
For more and to register, visit: www.contactlens.org.nz/events