Welcome to RANZCO NZ 2021
On behalf of the organising committee, I am pleased to invite and welcome you to the 2021 RANZCO New Zealand Branch Annual Scientific Meeting and the New Zealand Ophthalmic Nurses Group Meeting.
The meetings will be held in the Christchurch Town Hall, an iconic building which has been restored to its pre-earthquake splendour. The plenary sessions will be held in the spectacular James Hay Theatre, with concurrent sessions being held in other meeting rooms in the venue. The meetings will run on Friday 19 and Saturday 20 March, with a welcome function at the Town Hall at 5.30pm on Thursday 18 March.
The theme for this year's scientific meeting is Balance. The organising committee has endeavoured to balance high-quality scientific content with presentations on non-academic topics and talks given by non-ophthalmologists. These presentations will cover some of RANZCO's seven key roles of an ophthalmologist, including collaborator, manager and communicator, and other areas such as sustainability and work-life balance. Our aim is for you to leave the meeting with plenty of exciting new ophthalmic knowledge and with a renewed interest in other facets of life as an ophthalmologist.
To deliver the academic content, we have invited three exceptional international keynote speakers who will present virtually. Professor Stephanie Watson from Sydney will talk on a variety of anterior segment topics, including an update on the treatment of microbial keratitis and challenges in ocular stem cell therapy. We also have Professor Bill Morgan from Perth, who will cover glaucoma, from basic science through to cutting-edge surgical developments. Finally, we welcome Dr Roxanne Crosby-Nwaobi from Moorfields in London, who is the keynote speaker for the ophthalmic nurses' meeting and will present on the use of digital technology in ophthalmology and diabetic retinopathy.
The Annual Scientific Meeting has not been held in Christchurch for over a decade. The last time was prior to the devastating earthquakes, so for many delegates it will be their first trip to Christchurch for some time. The Town Hall is in the heart of the city and Christchurch is an easy city to explore on foot. We highly encourage you to extend your stay to explore the new amenities which continue to spring up with the rebuild. Christchurch is a fantastic city for families, so we'd encourage you to bring your children along to enjoy Turanga (the new central library), the Margaret Mahy Playground, and the Christchurch Adventure Park. More information on activities and accommodation can be found on the meeting website.
In keeping with our theme of Balance, the organising committee has also put together an entertaining social programme. We hope you will join us for the Welcome Function in the Town Hall on the Thursday evening and the informal dinner on Friday from 6.30-9.30pm. Friday's venue, the Riverside Market, has 30 independent food outlets (think street food on steroids) so you'll be spoilt for choice, and we have hired the mezzanine floor so our group can socialise uninterrupted.
As usual, the meeting will have an associated exhibition area to give you the opportunity to explore the latest industry offerings. We are very grateful for the ongoing support and sponsorship of our local ophthalmic companies, which are vital to the success of the meeting.
We look forward to seeing you in Christchurch.
For all the programme and registration details, visit: https://tinyurl.com/RANZCONZ2021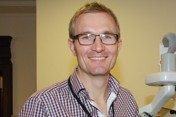 Dr Logan Robinson is a consultant ophthalmologist based at Christchurch Hospital and Southern Eye Specialists, specialising in retinal surgery, and a lead member of the 2021 RANZCO NZ Scientific Meeting organising committee.