Summer Scholar Symposium 2021
At last, an event free of a single mention of Covid-19! The Summer Scholar Symposium is the culmination of the efforts of University of Auckland students who spent the break between academic years working on research projects.
At the symposium, students have just three minutes to present their findings to academics and fellow students before fielding questions from the audience. Judging their work this year was Emeritus Professor Colin Green and Professor Andrew Shelling, associate dean (research) at the Faculty of Medical and Health Sciences. Asked why they applied for summer scholarships, which comes with a compensatory stipend, student replies included, "More interesting stuff than what is studied in the degree"; "A better use of the summer"; "To find out if I'm interested in research"; "Good experience, particularly in research processes"; and, best of all, "To get some money".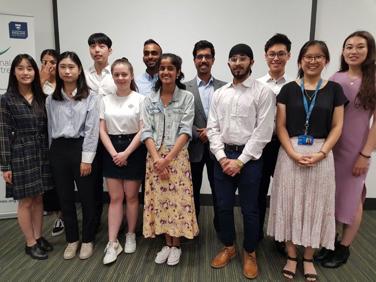 The 2021 Summer scholars
This year's first prize winner was Stephanie Green, a BOptom student supervised by Robert Ng, Dr Geraint Phillips and Dr Hussain Patel. Green's research was on the glaucoma agreement in New Zealand, comparing the results of two optometrists and two ophthalmologists in their diagnosis and management of glaucoma to determine how well the two groups aligned. Overall, there appeared to be an 80% agreement, with the strongest agreement being between the optometrist and the ophthalmologist who had supervised the aforementioned optometrist's advanced training for glaucoma accreditation. Possible explanations for discrepancies, however, included too many different instruments used and ophthalmologists being trained in countries where contrasting systems and drug regimes are preferred. Notably, most of the disagreements involved normal-tension glaucoma.
In Green's study both optometrists had completed a six-month fellowship through Auckland District Health Board. While there are 110 glaucoma-accredited optometrists in New Zealand, not all have had the same training. This suggests an extension of this research to a larger sample is warranted to demonstrate how well optometrists are managing glaucoma to reduce the burden on ophthalmologists, particularly in more rural areas, she said. Green charmingly dodged all attempts to cajole her into naming the participants in her research.
Second place went to Jack Maran, a bachelor of medicine and surgery (MBChB) student supervised by Dr Lola Mugisho and doctoral candidate Charisse Kuo. Maran's topic was the use of human donor eye tissue to better understand retinal pathophysiology in diabetic retinopathy (DR). He introduced the topic by stating that while using anti-VEGF (vascular endothelial growth factor) therapy is the gold standard for treating DR, finding a more specific marker of inflammation onset would improve outcomes. His research used a very restricted sample from three patient groups: DR detected, type-2 diabetics and a control group. The results showed that specific markers were increased in DR but not in the other two groups, suggesting these markers play a role in early pathogenesis of the condition and thus they could be exploited in the development of therapeutic agents and earlier treatment.
Third prize went to Bryan Shin, also an MBChB student, who was supervised by Associate Professor Ilva Rupenthal and doctoral candidate Henry Louie. Shin's topic was characterisation of extracellular vesicles (EVs) in ocular disease. Fortunately, for those of us who thought EVs were electric vehicles, Shin was quick to correct and reassure us that his research was not, in fact, financed by Tesla. Shin investigated EVs in samples of human post-mortem vitreous from controls, type-2 diabetics and those with DR. His conclusion was that both the concentration and content of EV changes in type-2 diabetes and DR, with the concentration of EVs being greatest in the DR group, indicating EVs could play a role in DR pathogenesis. Cells secrete EVs, which mediate cellular processes in disease and their activity has been shown to be interrupted by the carcinogenesis process. This is certainly an area of research to watch.
Other scholars and their research offerings included:
Lydia Han - Artificial intelligence (AI) in public diabetic screening
Yi Lin Chen - AI in optometry and ophthalmology
Bosco Yue - Co-expression of aquaporins in the lens location is everything
Soyeon Hong - Retinal microglia novel molecular markers to diagnose early-stage DR
Michelle Tiang - An iPad-based assessment of reading performance
Khushi Sehajpal - Targeting connexin43 hemichannels to prevent epithelial-mesenchymal transition in retinal pigment epithelial cells
Vanshika Nadgir - Remote testing of vision in children
Georgia Tippett - Evaluation of the anti-inflammatory effects of dexamethasone on retinal dystrophies
Sargun Sethi - Differentiation of adult stem cells for corneal endothelial regeneration
Gabriel Lobo - Optokinetic nystagmus as an objective diagnostic test for colour vision deficiencies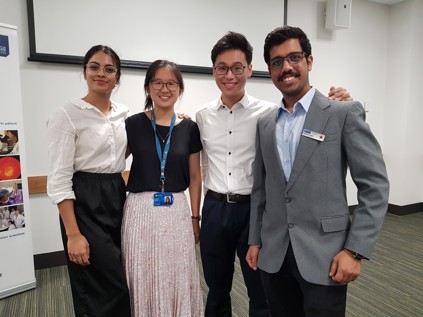 Vanshika Nadgir, Michelle Tiang, Bosco Yue and Gabriel Lobo
Speaking to Gabriel Lobo after his presentation, it appears that there were two cases of acquired-colour deficits observed during his research. Unfortunately, there hadn't been enough time for him to discuss this with the audience formally, but it's clear that further study of this interesting colour vision test is warranted.
Overall the judges praised the scholars for the high standard of their work and lamented their difficulty in separating the winners, who were each presented with a certificate (which no doubt will look better on their CV than on their wall). Stephanie Green also received a lovely curved plaque for her win.
Naomi Meltzer has worked in optometry for more than 30 years and runs an independent optometry practice specialising in low vision consultancy in Auckland.