Counties Manukau ophthalmologist Dr Jim Stewart has made a heartfelt plea for shorter referrals from optometrists for their glaucoma patients.
The public health system is struggling with limited government funding, an ageing population and high demand for new therapies, he told the audience at the recent Glaucoma New Zealand Symposium. "We consequently are only looking to see cases of definite glaucoma and we expect community optometrists to monitor most suspects and some low-risk glaucoma cases."
Speaking afterwards, Dr Stewart said most referrals are sent with too much unnecessary information, some with as many as five extra pages attached. He can receive up to 30 of these a day (though 10 is the norm) and he and his colleagues simply don't have time to read that amount of information every day at the end of their clinics. "I believe the optometrists think they are being helpful, but they haven't looked at it through our eyes. They put a lot of effort into these letters, which is unnecessary."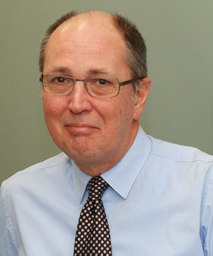 Dr Jim Stewart
The ophthalmologists do try to at least skim all the information sent, however, as there could be important facts buried within the mundane, but it's very easy to miss important things when you do that, he said. "What we really want to know is why they are referring this patient. They may be sending them for more than one reason: they may have narrow angles but also a visual field defect, or something else, perhaps something in the back of the eye that they've found." This critical information needs to be clearly stated up front, said Dr Stewart.
The problem has been compounded over the last couple of years by the government-mandated health information-sharing firm Healthlink's decision to put together its own online glaucoma referral form. This Healthlink form was based on the Auckland Region Ophthalmology Services glaucoma referral form, or the 'blue form' (see link below), which was drafted by a group of ophthalmologists specialising in glaucoma and is a very good form, said Dr Stewart. Unfortunately, Healthlink didn't copy it exactly, leaving out a few things and adding in others, including a request to add a letter for more information, which is completely unnecessary, he said, adding he has contacted Healthlink again to try to improve its online form.
"With today's technology, we're picking up glaucoma at a very early stage, but in most cases glaucoma is a slowly progressing condition, so there are a lot of people who may have glaucoma or have very early glaucoma but have normal visual field tests. So we'd like the optometrists to monitor these people and only refer them when there's glaucomatous visual field loss, or they are at high risk, for instance due to very high intraocular pressures (IOPs)."
Useful details include concise information about angles and IOPs, refraction and visual field changes, said Dr Stewart. Referral criteria are all clearly detailed on the blue form, for example if high IOP is the only problem, it needs to be 28mmHg or more in one eye, he said. "We do not accept referrals based on the disc appearance alone unless the patient cannot perform visual field testing… and there is no need for general medical information. If they are a strong glaucoma contender, send their visual field series to show progression; send colour copies of OCT scans and disc photos if relevant, but always begin with the main reason for the referral."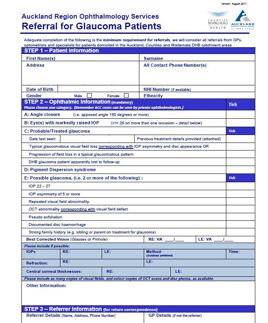 The preferred referral form can be downloaded here: http://www.eyeonoptics.co.nz/media/5408/akl-glaucoma-referral-form-august-2017.pdf