Rita Ora stuns in Silhouette
Fashion icon, British music superstar and recently reported fiancée of New Zealand director and actor Taika Waititi, Rita Ora is the new brand ambassador for Silhouette.
Renowned for its ultra-light eyewear, Silhouette strikes a delicate balance between quality craftsmanship and innovative high-tech production, says global brand director Atissa Tadjadod. "Silhouette is known and loved by celebrities around the world for creating ultra-light eyewear and is the perfect complement to Rita's vibrant looks."
Ora, known for her bold, glamorous style, regularly shares her latest outfits with her 30 million-plus social media followers. In a recent series of posts, Ora shows off Silhouette's 2022 sun collection with head-turning appeal. Opting for a playful, feminine look with pops of colour, Ora spotlights Silhouette's new Titan Minimal Art (TMA) Style Edition frames with cosmic blue tinted lenses and Fisher Island from the company's Rimless Shades collection.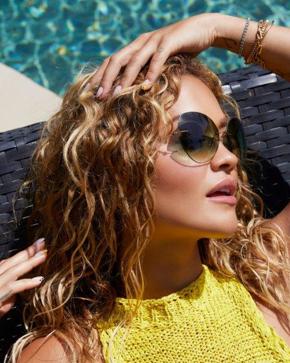 Rita Ora wearing Fisher Island
The award-winning Rimless Shades collection is an absolute highlight in Silhouette's 2022 Sun collection, says Tadjadod. "Rita's boldly confident personality perfectly reflects the glamorous, statement-making nature of the rimless Fisher Island eyewear."