RANZCO focuses on sustainability
Following the launch of the Royal Australian and New Zealand College of Ophthalmologists' (RANZCO's) Sustainability Charter towards the end of last year, the college has established a Sustainability Committee to bring about change.
Reflecting this new focus, sustainability was a key topic at the 2021 RANZCO NZ conference in Christchurch where newly appointed Sustainability Committee chair Dr Jesse Gale presented some recent research showing the average carbon footprint for a cataract operation in New Zealand was 152kg CO₂e (carbon dioxide equivalent). This was the equivalent of a return flight between Auckland and Wellington (about one hour each way), 67L of petrol or what an average New Zealander creates in nearly six days, he said. The amount tallied with cataract operations in the UK, which was discussed by international speaker Dr Cassandra Thiel who compared waste generation and environmental emissions from phacoemulsification cataract surgery in UK hospitals with Aravind charity eye hospitals in India. Her research found Aravind generated about 250g of waste per phacoemulsification and nearly 6kg of carbon dioxide-equivalents in greenhouse gases, which was just 5% of the UK's phaco-carbon footprint with comparable outcomes.
Dr Gale said the main source of waste in western cataract surgery was from the production and supply of materials, which is one of the key areas the committee will focus on. "It's exciting because it's a tricky puzzle but there's lots of opportunity for improvement. Cassie's talk was inspirational as it shows how much improvement there can be."
Auckland-based Dr Sarah Welch said she volunteered for the committee because she wanted to make sustainability part of her everyday life, including within her professional life. As northern clinical lead for New Zealand's Auckland and Northland district health boards, Dr Welch is also in a position to influence change but stressed it required an evidence-based approach. "The primary area we have decided to focus on is surgical waste and use… to challenge the assumption that everything should be single-use and disposable and to look for alternatives that are safe and use our precious resources better."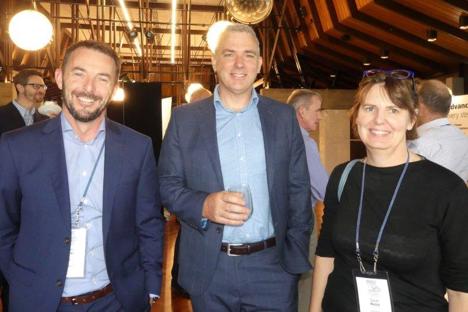 Glaukos' Chris Money with Drs James McKelvie and Sarah Welch
Disposables use has increased over the years because of clinical need, ease of use and, in some cases, simple economic greed, said Dr Welch. "We need to reverse that. We need to look at ways we can change our practises that are safe and efficient and would actually be more cost effective." The current pandemic situation also showed how important this was, as it was hard to get supplies, she added. "There are likely to be other shortages, and the more dependent we are on disposables the less secure that supply chain is."
Both Dr Gale and Dr Welch said it's important for ophthalmologists to challenge industry, to ask "what is the carbon footprint of this device?" and to work with them to evoke change. There are also similar sustainability committees being formed in India, the UK and North America, said Dr Welch. "So I actually hope we will be a worldwide network to challenge industry to step up to this."
Other areas the committee is focused on include providing guidelines and tools to RANZCO fellows for auditing and improving their own sustainability and the continued testing of new models of care to reduce patient travel, including bilateral surgery, phone follow ups and community clinics. RANZCO's other Sustainability Committee members are Australian RANZCO fellows, Drs Michelle Gajus, John Landers, Michael Loughnan, John McCoombes and Suki Sandhu. All are very enthusiastic to get started, said Dr Gale. "There is momentum and support to make some progress here and maybe that's because we can all see it affecting our children's generation, not just our grandchildren's generation now."