OptiLight secures FDA approval
Lumenis has received the US Food and Drug Administration's (FDA) De Novo authorisation for its newest intense pulsed light (IPL) device OptiLight, designed to improve signs of dry eye disease (DED) due to meibomian gland dysfunction (MGD).  
"Our new OptiLight with patented Optimal Pulse Technology (OPT) is the first and only such device to receive FDA approval for improving signs of dry eye disease," said Lumenis Australia country manager, Richard New.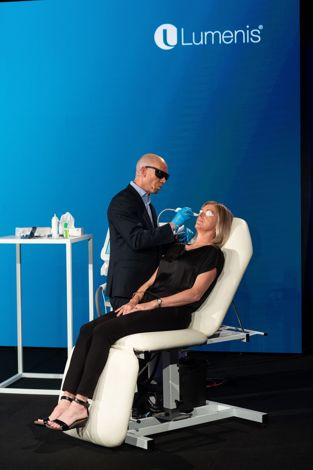 Dr Jason Holland demonstrating OptiLight at the virtual event
Lumenis' multi-centre, double-blind, randomised controlled FDA trial showed that Lumenis IPL significantly improved tear breakup time, meibum quality, and meibomian gland expressibility, New said. "The clinical trial joins a long list of studies of IPL with OPT that have shown the same results, as well as reduction of inflammatory markers."  
"In my clinic we deal with DED every day and have found that to make a meaningful impact on the disease, we need to address the underlying inflammation," said Dr Jason Holland, lead clinical optometrist at The Eye Health Centre in Queensland. "Lumenis' OPT technology helps us to address inflammation, which improves the signs and symptoms of DED due to MGD. It's an essential tool in our dry eye toolkit."  
Lumenis unveiled the new technology to the Australian and New Zealand market at a virtual launch on 30 October 2021.