Oculoplastics research update
Success of endoscopic dacryocystorhinostomy with or without stents 
Maria Julia Orsolini, Silvana Artioli Schellini, Roberta Lilian Fernandes Souza Meneguim & Antônio José Maria Catâneo  
Orbit. 2019 Oct 29:1-8. doi: 10.1080/01676830.2019.1677726. [Epub ahead of print] 
Design: Systematic review and meta-analysis of all randomised controlled trials (RCT) comparing endoscopic dacrycystorhinostomy (tear duct bypass) with or without silicone stents. Only patients over 10-years-old with primary acquired nasolacrimal duct obstruction (NLDO) were included. 
Outcomes: Twelve RCT's were included with 997 surgeries, 506 with a stent and 491 without. There was a 94% success with stents vs 90.6% without. The overall odds ratio was 1.62 in favour of stent use, but 95% CI (1.01-2.59) were very close to 1.00, so this was not very strong evidence. Only the largest study individually favoured stent use, with the others not showing a statistically significant difference. Postoperative complications were reported to be slightly higher in the stent group but not reliably reported between studies. 
Limitations: A large number of patients were included but factors, such as definition of primary success, varied between studies and included subjective and objective measures. The trials had differing surgical techniques and complications were not reported in a comparable/standardised manner, so were not able to be analysed. There was also variable follow-up duration, ranging from three months to seven years. 
Comment: Endoscopic DCR is now well established as being comparable to the external approach in terms of overall success. This large meta-analysis favours the use of silicone stents intraoperatively, but the overall evidence is judged to be of low quality despite including covering only RCTs. The relationship between stents and a possible link to higher postoperative complications is also unclear.  
Perioperative management of ophthalmic patients on anti-thrombotic agents 

A. K.Makuloluwa, S.Tiew, M. Briggs 
Eye (Lond). 2019 Jul;33(7):1044-1059. doi: 10.1038/s41433-019-0382-6. 
Design: A comprehensive literature review of relevant articles between 2007 and 2017 looking at the effect of antiplatelet agents, warfarin and direct oral anticoagulants (DOACs), eg. rivaroxaban, during the perioperative period. 
Outcomes: Cataract surgery (subtenon/topical), minor oculoplastics cases (chalazion/cyst removal), corneal surgery and strabismus surgery were deemed low risk for ophthalmic patients on anti-thrombotic agents, while peri/retrobulbar anaesthesia, glaucoma surgery, vitreoretinal procedures, oculoplastic surgery (orbital/blepharoplasty/post septal) and temporal artery biopsy were deemed high risk. For low risk surgery, antiplatelets and warfarin to be continued (INR therapeutic), with DOAC cessation two days pre op. For high risk surgery, antiplatelets to be stopped seven days pre-op, warfarin to be stopped two days pre op with INR check on the day of surgery (Aim <2.0). DOAC had the same recommendations as low risk cases.  
DOACs had rapid onset and there were reports of rapid post-op bleeding on immediate restarting of medications, leading to a suggestion to restart all DOACs 1-2 days post-op if adequate haemostasis. Those patients with a high risk of thrombosis (eg. with mechanical valves, cardiac stents etc.) need multidisciplinary input.  
Limitations: Most of the studies were retrospective. Haemorrhagic complications are generally rare in ophthalmic surgery and there was variable evidence present, eg. there were no studies on corneal surgery, but recommendations based on expert opinion. Antiplatelet and warfarin use was more thoroughly researched, but there was a paucity of relevant evidence on DOACs 
Comment: This review suggests sensible guidelines for most types of ophthalmic surgery, stratified by risk based on published evidence. However, the evidence is variable and these recommendations should not be a substitute for a comprehensive assessment of the patient. 
Doxycycline injection for sclerotherapy of lower eyelid festoons and malar oedema 
Godfrey KJ, Kally P, Dunbar KE, Campbell AA, Callahan AB, Lo C, Freund R, Lisman RD 
Ophthalmic Plast Reconstr Surg. 2019 Sep/Oct;35(5):474-477. doi: 10.1097/IOP.0000000000001332. 
Design: Preliminary results from a retrospective review of 11 patients with lower eyelid festoons and malar oedema treated with intralesional injections of doxycyline hyclate 10mg/ml Festoons were graded pre- and post-injection by two masked observers. The mean follow up was 22.5 weeks (3-104 weeks).  
Outcomes: The mean festoon grade reduced from 2.5 to 0.9 (zero being no festoon and three being severe, p=<0.0001). The mean number of injections was 1.4 (max two treatments), with mean volume per injection 0.72ml (0.15-2.0ml, titrated based on size of festoon). Six patients were treated in the clinic room without sedation, all reported a burning sensation with a mean duration of seven mins (2-10 mins). Skin redness was rare (n=3) but bruising was very common (n=7). There were no severe or long-term side effects and the recommendation was made to wait three months to judge the full effect of sclerosis. 
Limitations: It was a small, retrospective analysis. The grading of festoons/malar oedema were not explained or standardised with other literature and there was variable follow-up lengths and injection volumes, although the concentration was standard.  
Comment: Non-surgical treatments for cosmetic problems are growing in popularity, especially in cases where established surgical techniques have variable efficacy. The use of sclerosants in medicine is commonplace and doxycycline is already an established product in this space. Tetracycline has been previously used for festoons successfully, however, it is now hard to obtain and difficult to reconstitute. Doxycycline is readily available, easy to dilute and this study shows its potential efficacy for this challenging issue. More research for a comprehensive answer as to its usefulness is required.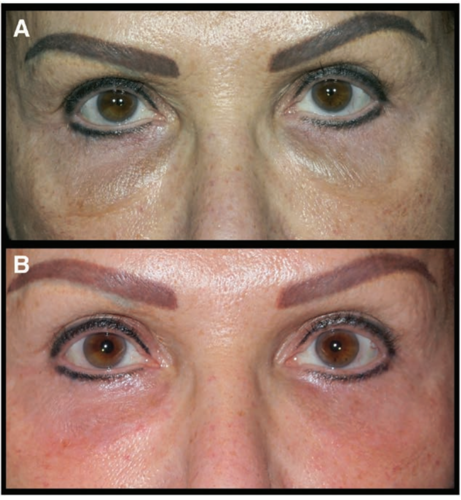 Treatment of lower eyelid festoons. Pre- (A) and post-injection (B) photographs of a patient with lower eyelid festoons demonstrating an improvement at 3 months following bilateral 1ml injections of 10mg/ml doxycycline hyclate
Dr Sid Ogra is a consultant ophthalmologist with subspecialty training in oculoplastic and cataract surgery. He currently practices at Manukau SuperClinic and Greenlane Clinical Centre and consults at Auckland Eye.