DISPENSING MATTERS: The pandemic fallout - change and opportunity
When Covid-19 first broke out, things had never felt so uncertain and every sector had to react quickly. Now, with a year's hindsight, we can see how the optical industry navigated its way to where we are now. In the UK, where I'm based, dispensing opticians (DOs) have been allowed to operate during the pandemic but progress has been start-and-stop, dipping in and out of various lockdowns and restrictions on national and local levels. So how has the pandemic impacted our industry on this side of the world, and are there new consumer behaviours emerging from it?
The impact on consumer habits
Every practice owner I spoke to said that at the beginning of the pandemic their customers tightened their purse-strings straight away – no one wanted to spend on anything other than the essentials, namely, food. Fast-forward a few months, where working from home, children being home-schooled and the constant use of technology to stay connected became the new norm. This was the turning point for consumers' buying behaviour.
Many practice owners began reporting that glasses' fit had become patients' top priority. Customers, however, did not want to visit a practice unless absolutely necessary. With practices operating on an appointment-only system with strict social distancing to reduce the amount of people allowed in the store at one time, it no longer felt convenient to pop in to have one's specs adjusted, so it became more important to get the fit right first time.
Countries where optical stores continued to operate also reported a big drop in the number of patients wishing to have an eye examination. However, once social-distancing measures were implemented and the initial panic subsided, the public became more at ease with getting their eyes tested again. But the whole process was repeated when countries went back into lockdown.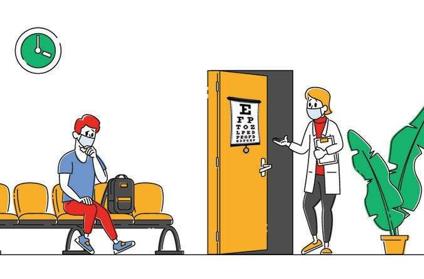 Unsurprisingly, DOs reported that with more people working from home, children's screen time increased drastically and our use of technology escalated¹. That drove increased demand for lenses with blue-light filters and more customers willing to purchase two or three pairs of glasses at a time to cater for different circumstances.
Another interesting lockdown effect was an uptick in customers who were happy to spend more on a quality frame without much thought. Some practice owners explained this trend by suggesting that while we're housebound and with fewer things to spend on, those lucky enough to still have a job get to enjoy an increase in disposable income.
Change brings opportunities
With mask-wearing becoming routine in most parts of the world, the online sales of anti-fog products surged. Even if you only need sunglasses, wearing a mask and steaming-up your lenses is a real problem. Consumers also expressed discomfort when wearing a face mask with their glasses. In fact, comfort has become a focal point in the pandemic, not just for eyewear but for our clothing too. In the fashion sector, sales of items such as jogging bottoms, leggings and loungewear has increased, with online retailer ASOS attributing a 23% leap in sales in the first four months of 2021 to leisurewear purchases and the closure of bricks-and-mortar stores.
The move to online
So is the direct-to-consumer business booming? The answer is yes, and no. To begin with consumers were quick to switch to online shopping, even with their eyewear. However, as the pandemic wore on, many who had purchased online realised their frames did not feel right and caused them discomfort. In the end, they returned to their DOs. These same UK DOs also report that their over-40-year-old customers, those requiring multifocals, were quick to realise that online simply didn't work well for them and a specialist was needed!
What is thriving, however, is the demand for online virtual fittings, which many brands have been quick to roll out. This can be a helpful tool for practice owners because their customers can 'try on' glasses before popping into the store, saving themselves and practice owners' time². This also reduces the chance of Covid-19 transmission and the need to disinfect numerous pairs of glasses between patients, while allowing the DO to reap the commercial rewards of seeing more patients.
So how do optical frames suppliers adapt to this changing landscape? I spoke to three eyewear brands: TC Charton (America); Ronit Furst (Israel); and Stepper Eyewear (UK).
All cited operating with greater flexibility, higher levels of communication, reacting to needs more quickly and efficiently and having a unique product as key elements required to thrive through the pandemic. Communication between brands, practice owners and suppliers has become more important than ever, with the latter agreeing their core focus was on helping existing clients navigate the pandemic by showing understanding and empathy, and offering solutions whenever possible.
The pandemic has forced rapid change, creating new ways of working that have given us a taster of how things can work differently. For both B2B and B2C, the importance of being online can no longer be ignored. B2B commerce has also experienced a shift, with face-to-face meetings being replaced by phone calls, video calls, emails and even WhatsApp. Buyers can get an overview of collections online and, if they like what they see, they request a visit that focuses on pieces pre-selected, also saving time and money.
Navigating through and eventually out of the pandemic is about working smarter, being prepared to adapt, being attentive and remembering that face-to-face interaction is still important. The general attitude in the optical industry here is that the future is bright because more consumers now realise how important the optical industry is.
Good luck to all on this pandemic roller-coaster.
Notes
For more science on the effect of lockdown on our children, go to: https://eyeonoptics.co.nz/articles/archive/light-at-the-end-of-the-lockdown-tunnel/
For more on virtual try-on technology, go to: https://eyeonoptics.co.nz/articles/archive/expanding-sales-with-virtual-ingenuity/
Siu-Yin Shing is an eyewear blogger and enthusiast. Born in Hong Kong but now based in the UK, she owns more than 30 pairs of glasses and so many sunglasses, she's lost count!