Covid's impact on acute eye services and small-gauge vitrectomy concerns
The impact of Covid policies on acute ophthalmology services - Moorfields Eye Hospital NHS Foundation Trust 
Louisa Wickham et al  
Eye (Lond), 2020 Jul 34(7): 1189–1192 
The impact of Covid policies on the vitreoretinal service at St Paul's Eye Unit, Liverpool 
Nikolaos Dervenis et al  
Eye (Lond), 2020 Jul 24: 1-2 
Review: These two very similar articles assessed the impact of the UK's Covid-19 lockdown on access to acute eye services and, more specifically, the effect on patient numbers presenting for acute vitreoretinal services for rhegmatogenous retinal detachment repair. Both studies report very similar reductions in retinal detachment cases (62% and 58.6% reduction, respectively) performed during the four-week lockdown period as compared with the same period a year prior. Interestingly, the authors of the second study did not see a change in the numbers over the ensuing eight weeks when the lockdown restrictions were progressively eased. A questionnaire was completed by all patients presenting to the Liverpool centre in this period and overall 13 (17.1%) patients had Covid-related concerns leading to late presentation and three out of 13 had more than one concern. Of these, six were self-isolating, five were unsure if the ophthalmology service was running and four were concerned about contracting Covid-19. Only one out of 76 patients was Covid positive on swab (asymptomatic) and none contracted Covid-19 during the follow-up period. The median delay in presentation was 10 days (range 3–40).  
Comment: Acute rhegmatogenous retinal detachment is an ophthalmic emergency requiring early treatment to fix the detached retina. Typically, retinal detachments where the macula has not yet detached are fixed within 24 hours of presentation, if not sooner. The impact of Covid-19 on acute eye services poses a difficult problem. Delayed presentation for eye problems that require urgent intervention can lead to irreversible vision loss, yet the anxiety of exposure to a potentially deadly infection can affect patients' perceptions of seeking access to treatment. These two studies are amongst a number of similar papers and highlight the reduction in patients seeking attention for emergency eye conditions, potentially negatively impacting the success of treatment. As healthcare professionals, we should advocate for early presentation when patients experience symptoms which can be associated with vision-threatening conditions such as retinal detachment, acute glaucoma or giant cell arteritis.  
Contemporary outcomes and prognostic factors of 23-gauge vitrectomy for retained lens fragments after phacoemulsification 
Errol W Chan et al 
Am J Ophthalmol. 2020 Nov: 219-283 
Review: This study investigated the use of small-gauge vitrectomy for treating dropped lens fragments following complicated cataract surgery, providing data on prognostic factors and visual acuity outcomes. The study included 291 consecutive eyes (291 patients). LogMAR BCVA improved from 0.73 ± 0.70 before cataract surgery to 0.46 ± 0.63 (P <.001) after vitrectomy. The pre-vitrectomy VA was 1.43 ± 0.79. At six months 183 (62.9%) and 45 patients (15.5%) achieved BCVAs better than 20/40 and worse than 20/200, respectively. Most frequent complications were de novo ocular hypertension (29 eyes, 10%) and transient cystoid macular oedema (25 eyes, 8.6%). Post-vitrectomy retinal detachment occurred in nine eyes (3.1%). Final VA of 20/40 or better was independently associated only with better pre-cataract surgery VA, age <75 years, absence of preexisting diabetic macular oedema (DMO) or post-vitrectomy persistent cystoid macular oedema (P <.05). Only poorer pre-cataract surgery VA, delaying vitrectomy for more than two weeks and final aphakic status were independently predictive of 20/200 or worse VA (P <.05). 20-gauge phaco fragmentation in the vitreous cavity was used in 63.9% of patients. 
The authors concluded the VA outcomes of 23-gauge vitrectomy for retained lens fragments were comparable to that of older, larger gauge instrumentation, but fall short of benchmarks for uncomplicated cataract surgery. The type or timing of the placement of the intraocular lens did not impact final VA. 
Comment: Newer vitreoretinal surgical techniques involve the use of small-gauge instruments that are inserted through the sclera using a transconjunctival approach. Since the inception of these finer instruments, the indications for their use have constantly expanded and these are now used for all vitreoretinal procedures. Removal of dropped lens fragments can pose a potential challenge for the use of smaller gauge instruments as larger fragments may be more difficult to remove given the smaller openings and reduced flow rates. This study compared the surgical outcomes with the use of 23G instruments, and encouragingly shows the outcomes are comparable to the older, larger gauge instruments, although a high proportion of patients still required the use of a 20G phaco-fragmotome to remove the larger lens fragments. Moreover, this study identified factors that can influence a better or worse visual outcome, which will prove useful in addressing patients' expectations. Unfortunately, the study confirmed the results didn't match the visual outcomes which are achievable with uncomplicated cataract surgery, and using smaller gauge instrumentation did not improve on the outcomes previously achievable with larger gauge instruments. The use of preoperative risk stratification scores has been shown to improve the surgical outcomes of complex cataracts by assigning more senior surgeons to complete surgery, but lens drop remains one of the most feared complications of phacoemulsification.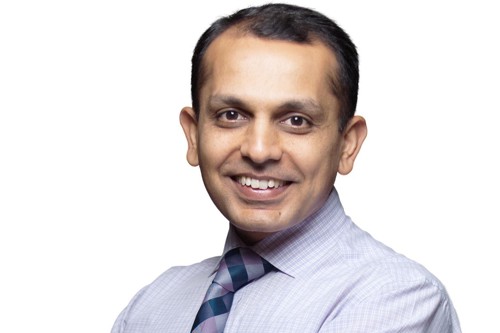 Dr Nadeem Ahmad is a consultant ophthalmologist with the Auckland and Manukau district health boards and Milford Eye Clinic, specialising in the medical and surgical management of vitreoretinal diseases.