CooperVision's sustainability promise
In a bold move, CooperVision ANZ has made all the one-day contact lenses it sells in New Zealand and Australia plastic neutral.
The initiative was made possible through CooperVision's global partnership with Plastic Bank, a Canada-based social enterprise that builds ethical recycling ecosystems in coastal communities. Under the partnership, for every box of CooperVision one-day contact lenses distributed in Australia and New Zealand, CooperVision purchases credits that fund the collection, processing and reuse of ocean-bound plastic waste into the global supply chain. "That is equal to the weight of the plastic used in its one-day contact lenses, the blister and the outer carton packaging," said Michelle North, CooperVision ANZ's general manager. "Not all plastic is bad. It's essential in healthcare and healthcare products, and it plays a critical role in the hygienic delivery and sterile protection of contact lenses. It's the waste we need to address."
Sustainability is a growing priority for consumers, she noted, with a 2021 CooperVision survey finding that 94% of contact lens wearers agreed that keeping plastic out of the oceans was important to them, while 99% said they would be more likely to try a plastic neutral-lens if it was recommended by their optometrist.
CooperVision's partnership with Plastic Bank was first rolled out in the US a year ago. Since then, the company said it has stopped the equivalent of 28 million plastic bottles from polluting the ocean and helped 171 coastal communities earn school tuition fees, groceries, cooking fuel and healthcare insurance through their work collecting more than half-a-million tonnes of ocean-bound plastic for Plastic Bank.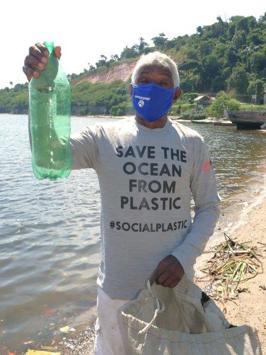 A Plastic Bank collector in Rio de Janeiro
"By reexamining our relationship with plastic, we can help protect the world's oceans and transform waste into a resource," said Dan McBride, executive vice president and chief operating officer of CooperCompanies. "There is no single approach that achieves sustainability, so we need to manage plastic use on many fronts. There is no finish line either, so we invite contact lens wearers and the rest of the eyecare industry to join us."