AMD treatment controversies, corneal tumours, myopic risks and more
The post-lockdown novelty of rubbing shoulders with colleagues showed no signs of abating at Eye Surgery Associates' postponed seminar and dinner evening at the end of last year. A celebratory air infused the private dining room at Auckland's Tamaki Yacht Club, boosted by a glorious summer evening view of the Hauraki Gulf.
Hosting the evening, Dr Hussain Patel introduced the night's guest speaker, Dr David Worsley, a Hamilton-based sub-specialist in vitreo-retinal surgery and medical retina and a clinical researcher in the physics and engineering department at Waikato University. A long-term trustee of Macular Degeneration New Zealand, Dr Worsley shared some insights from his experience with the controversial 2RT laser for the treatment of early to intermediate age-related macular degeneration. "We have these wonderful treatments for wet AMD, but we really don't have anything very useful to stop you getting there in the first place."
Having treated approximately 900 eyes of patients who had a very high risk of sight loss from AMD over the past few years, Dr Worsley showed how his results more than mirrored the positive outcomes of the Laser Intervention in early stages of AMD (LEAD) trial. This study showed the laser significantly slowed AMD progression for those without coexistent reticular pseudodrusen.
The house talks were kicked off by the newest member of the Eye Surgery Associates' team, cornea, anterior segment and oculoplastics sub-specialist Dr Yi Wei Goh, who shared some interesting personal details. This included her past as a competitive Malaysian gymnast who won four gold medals at the South East Asian Games in 2001, before quitting to study medicine. "It was between dancing and medicine, so it was quite easy for my parents to choose for me," she laughed.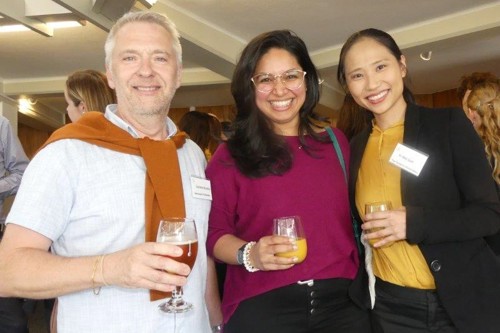 Carleton Buckley, Vipti Buckley and Dr Yi Wei Goh
Dr Goh discussed the tricky area of conjunctival tumours, focusing on non-pigmented tumours, the most common of which is ocular surface squamous neoplasia (OSSN). Differentiating between benign and malignant tumours requires good history taking, including knowledge about sun exposure and systemic diseases, followed by clinical evaluation and investigation, she said. Though OSSN prevalence is low with pterygium, it should always be considered, especially "when you are confronted with an unusual appearing pterygium or pseudopterygium." Other pearls included that most conjunctival papillomas are benign with a minimal propensity toward malignancy, however signs of dysplasia include keratinisation, symblepharon formation, inflammation and palpebral conjunctival involvement.
Medical and surgical retina and uveitis sub-specialist Dr Monika Pradhan's topic was myopic traction maculopathy, or myopic foveoschisis, a schisis-like thickening of the retina in eyes with high myopia with posterior staphyloma. With the rise in myopia worldwide, eye care practitioners are seeing an increase in myopic maculoshisis, with up to a third of high myopes affected and females more than three times as likely to be affected. Management is wait and watch, and vitrectomy or macular buckling for MTM and associated macular detachment (MD) when vision is threatened.
Glaucoma specialist Dr Patel presented a practical look at the role of optical coherence tomography in angle assessment, and its comparison with gonioscopy. Bringing an end to an enjoyable evening, he noted that, "it's difficult to inject humour into an OCT talk."