In today's society there seems to be a lot of emphasis on maintaining that youthful look. Recently, Jennifer Lopez turned 52 and the media went into a frenzy, obsessing over her exercise, beauty and make-up regimes. What if I said to you that eyewear can help your clients achieve that youthful look without the need to follow any exercise or beauty fad? (Disclaimer: I cannot help your patients to look exactly like J.Lo.)
Eyewear is an accessory that can change a person's image instantly; the geek-chic trend that started in the mid-2000s is a great example. Picking the right frame can transform your patient's look and help them to appear more youthful.
Specs across the spectrum
TV chef and Great British Bake Off judge Prue Leith turned 81 this year and viewers was shocked because she looks so youthful. Prue loves lots of colour, especially from her eyewear. Her go-to brand is Ronit Furst, known for its colourful frames. She is a prime example of how wearing different colours can enhance someone's appearance and help them look younger. Wearing multiple colours or going brighter with your eyewear doesn't work for everyone, but picking colours that complement your skin tone matters.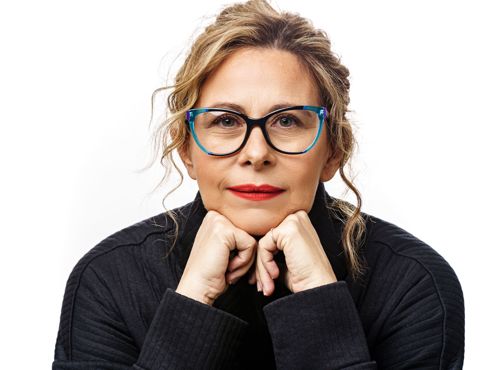 A Ronit Furst subtle cat eye
Eva Davé, owner of award-winning styling practice Style Optique and founder of the Eyewear Styling Academy, says the combination of a client's hair, skin and eyes will inform the frame colours that are in harmony with their natural colouring. "The wrong colours can cast shadows on the face, highlighting fine lines and wrinkles and are more ageing. In contrast, the right colours can be transformational, making the skin appear smoother and healthier."
As we age, the one thing few of us avoid is grey hair; some dye it, others choose to embrace it. Going from a life-long brunette to grey is quite a change and a challenge. With that in mind, it is important to steer your greying clients away from the go-to colours they've worn for decades. As well as losing their hair colour, many people also lose pigment from their skin and eyes as they age, says Davé. "Dark blacks and browns or bright, bold colours that may have worked previously may no longer have the same impact; it can even begin to look harsh, so a slightly muted tone could be more flattering."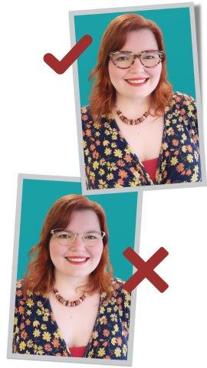 A person going from, say, a warm redhead to a cool grey is a complete change. "The browns, reds and golds that looked great a few years ago can begin to reflect a sallow tone on the face, so the blue-based cooler colours – such as silvers, pinks and blues – may be much more flattering," she says.
Face-lifting frames
The elasticity of youthful skin is largely thanks to the collagen scaffold it's built upon, but as we age collagen production decreases and our skin starts to go south. This is when we need to think about eyewear shapes that will rescue a face from ageing skin – frames that are the opposite of sagging and droopy. The cat eye is one such hero.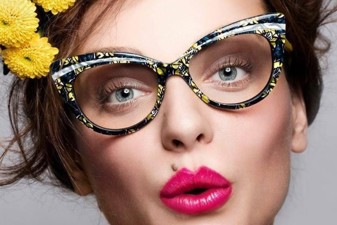 Francis Klein
US-based optometrist and practice owner Dr Melanie Denton has a YouTube channel called 'Eye School with Dr D'. She's an advocate of the cat eye to provide lift. Even if your patient is not keen on a full-on cat-eye style, get them to try something with a slight lift on the outer corner of the frame, as this gives the illusion of lift to the face. Also try to guide your patient away from styles such as the aviator, which is probably the droopiest style out there, and avoid small shapes and rimless designs, as they offer little to enhance features. If your patient likes the rimless look, however, offer them translucent colours as an alternative.
All eyecare professionals know that the correct fit and lenses are vital to complete and improve their patient's look. Progressive lenses are a must if your patient doesn't want to show their age by having their glasses sitting at the end of the nose and peering over them. After all, if it's a trick exploited by actors and impressionists to appear older, it's best avoided! Daryl Newsome, vice president of the Association of British Dispensing Opticians, says patients should avoid thin, shallow frames or half frames that encourage this, unless they want to make a feature of their presbyopia. This can work well with someone who doesn't look their age, but less so for most of us, he says. "A full-sized and appropriate lens, such as a PPL or an occupational lens in a complementary frame, gives greater visual flexibility. Incorporating prescriptions that will help the patient on the computer and in and around the home gives the appearance of someone who simply requires spectacles and does not draw attention to their age."
Embracing change
Glasses are an essential accessory that can alter a person's image immediately. They are right there on your face, after all. Going bold and colourful is not the solution to looking young. Instead, it is about finding something that suits the customer's stage of life and personality. If it was clothes, would we wear something in our forties that we used to wear in our teens? It's unlikely, so the same applies with glasses.
As we grow, we change, and we need to find what suits us and even enhances the stage of life we're at. My one golden rule with glasses is to never just stick to one frame shape. I think a lot of consumers are guilty of that because it's familiar and most people don't like change. Glasses are the perfect illusion to divert and distract. As optical professionals, you can work your magic to bring out new dimensions to your patient's look by guiding them and nudging them out of their comfort zone.
Siu-Yin Shing is an eyewear blogger and enthusiast. Born in Hong Kong and now based in the UK, she owns more than 30 pairs of glasses and so many sunglasses that she's lost count!