Adapting to the new ocular surface research landscape
Resilience and adaptability have become key personal attributes in the face of the pandemic as the world has been required to adapt to oft-changing 'new normal' environments and ways of working. Many parts of the world have been living with extended periods of social distancing restrictions making the delivery of healthcare problematic. While New Zealand might seem relatively unscathed to date, at least in terms of community Covid cases, the pandemic has impacted most both professionally and personally.
Professional impacts of the pandemic
Financial constraints, severely limited international travel, teaching responsibilities for students stuck overseas and the inability to recruit graduate students and staff from around the world have all resulted in the New Zealand academic landscape being quite dramatically impacted, forcing innovation. Virtual and hybrid forms of information delivery have become the norm for education and research.
Like our colleagues abroad, New Zealand's clinician researchers have taken part in hybrid as well as in wholly virtual international conferences, such as the American Academy of Optometry (AAO) and the Association for Research in Vision and Ophthalmology (ARVO) in the US and the British Contact Lens Association (BCLA) conference in the UK. For Antipodeans, US-based virtual conferences are notoriously challenging, with scheduled 'live' presentations and poster sessions at all times of the night - my own ARVO presentation this year demanded online interaction with the audience from 3.15-5.00am NZST!
The BCLA virtual conference was therefore a breath of fresh air. Acknowledging the world's vastly different time zones, and committed to growing their international membership, BCLA organisers took a different approach with four back-to-back 'live' sessions over a 30-hour period, giving members from across the world the benefit of live sessions, facilitated by local moderators, delivered during waking hours.
Honoured to be appointed recently as a BCLA global ambassador, and assigned the task of encouraging greater overseas membership, it was pleasing to see New Zealand's larger-than-ever presence at BCLA this year, with researchers making the most of participating without costly travel fares and time. Dr Marcy Tong from our School of Optometry and Vision Science was the first New Zealander (of many, we hope) to be awarded her certificate for successfully completing the BCLA's Dry Eye and Contact Lens Retention Module. The Ocular Surface Laboratory (OSL) team delivered presentations in both the UK and Australasian segments and undertook local moderating.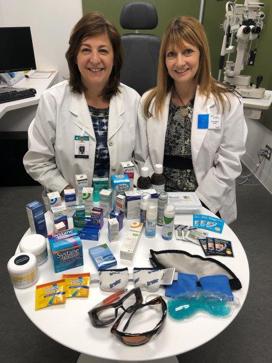 Professors Etty Bitton from Canada and Jennifer Craig from New Zealand collaborating on dry eye product research before the pandemic halted international travel
Conference attendance for continued learning, disseminating research findings and networking (as best we can at these virtual events) continues with postdoctoral research fellow, Dr Alex Müntz presenting at the Asia-Pacific Academy of Ophthalmology (APAO) conference in September. Meanwhile, we continue to support and appreciate in-person interactions at our local conferences and educational events, including the upcoming Ocular Therapeutics Dry Eye Disease Evening, organised by the Buchanan Ocular Therapeutics Unit.
Focusing on the ocular surface
Interest in the ocular surface field has continued to expand, along with a growing realisation that our health can be heavily influenced by our external environment and whatever our eyes are exposed to, either by choice or on account of where we live. It's therefore exciting, as invited chair, to see the commencement of the latest Tear Film and Ocular Surface Society (TFOS) Workshop – A Lifestyle Epidemic: Ocular Surface Disease. More than 150 clinician and basic scientists from across the world will work together (virtually at this stage) within a total of 11 subcommittees to explore and summarise the scientific evidence around the impact of our environment on our ocular surface health, with the final report due to be submitted for publication later in 2022.
Tackling inequities from research to patient
While the international arena of tear film, contact lens and ocular surface developments continues to evolve, there's plenty to reflect on in a local context. To that end, I'm excited to announce a new quarterly column in NZ Optics entitled 'Focus on the Ocular Surface' that will allow us to share a wide range of topical issues relating to our work both here and abroad.
Setting the tone, fifth-year medical student Isaac Samuels (Ngāti Tainui) discusses the health inequities for Māori  which have prompted us, as clinical ocular surface researchers to take action. With our preliminary research indicating that Māori may be disproportionately affected by dry eye disease (DED), we share the passion of many healthcare providers to find ways to address any such inequities. Accordingly, we have partnered with Iwi United Engaged, led by registered nurse educator Misty Edmonds (Ngāti Tūwharetoa) and scientific educator Kevin Roos (Sāmi, Kainū, Ngāti Toarangatira). Under their guidance, our international OSL team have committed to developing greater cultural awareness and adopting a Kaupapa Māori approach at all stages of our research. We are further delighted to support, and receive support from, a growing number of Māori researchers, including Isaac and Bachelor of Nursing (Māori) students Saia Manase and Julie Pirere. All three have summer studentships planned with the OSL this year (Saia for a second time), while Isaac plans to continue with his research in the OSL to complete a BMedSc Honours under my supervision during the 2022 academic year.
The expanding realm of the OSL
The OSL team continues to be ably supported by postdocs Drs Alex Müntz, Ally Xue and Sanjay Marasini, and to enjoy collaboration with many external clinicians, including optometrists Grant Watters of Mortimer Hirst and Ryan Mahmoud of NVision and natural health physician Dr Emma Sandford. Ryan is commencing an exciting new clinical trial for which we are seeking eligible participants for recruitment (scan the QR code below for more, or visit tinyurl.com/OSLrecruit), while Emma continues to collaborate on our studies of castor oil-based therapies for blepharitis, which we hope to tell you more about in coming issues.
OSL research continues to span four domains – epidemiological, pathophysiological, diagnostic and therapeutic. Our epidemiological projects seek to shed light on disease prevalence rates as well as modifiable and non-modifiable risk factors associated with dry eye disease. Ophthalmologist researcher Dr Michael Wang has authored an impressive 14 publications from his PhD thesis, focusing on dry eye risk factors and diagnostic test accuracy, and continues to provide oversight for both local and international collaborative studies in the UK and China. More recently, nurse practitioner Marc Maclean conducted a nationwide survey to learn more about the practices surrounding the administration of intravitreal injections to better understand how these might lead to iatrogenic dry eye. We are also undertaking a longitudinal evaluation to identify longer-term changes in the ocular surface with clinical Masters' student Bhavna Patel, assisted by three Part IV BOptom students who are assessing the impact of a range of dry eye risk factors. In further exploring the pathophysiology of meibomian gland dysfunction (MGD), Alex has returned to the lab to evaluate lid margin keratinisation.
Diagnostic accuracy remains an area of interest for the team, as successful outcomes for DED patients requires accurate and consistent diagnosis and subtyping to allow targeted management. Current and upcoming projects in this area include the evaluation of multifunctional diagnostic devices by Isaac and also by Master's student, optometrist Catherine Shon, who hopes to offer best practice recommendations for ocular surface inflammation testing. Also focusing on ocular surface inflammation, optometrist researcher and PhD student Dian Zhuang is working with BOptom honours student Carmen Liu to determine the role of inflammasomes in DED. This forms part of A/Prof Ilva Rupenthal's Health Research Council-funded translational project, in which Dr Stuti Misra and I supervise clinical studies, while Dr Priyanka Agarwal supervises parallel lab-based research to develop a new therapy for DED.
In the therapeutics space, we have another three Part IV optometry students conducting a trial to look at the possible benefits of an oral astaxanthin supplement (from Asta Supreme) for reducing dry eye symptoms; optometrist Ryan Mahmoud is undertaking a randomised, controlled clinical trial evaluating quantum molecular resonance (Rexon Eye) as a therapy for DED; Catherine Shon is clinical lead on our investigator-initiated trial evaluating outcomes with Alcon's iLux thermal pulsation system; while the international multicentre clinical trial for Azura, for which OSL is a site, is ongoing, with lead sub-investigator Karien Nel actively seeking eligible participants.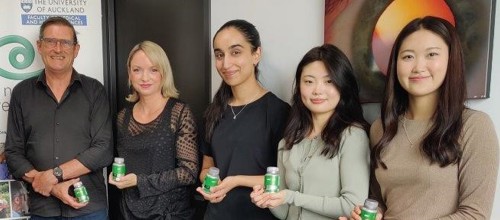 The Astaxanthin research project team: Grant Watters (lead), Asta Supreme's Emma Hulse, Simron Mann, Katherine Han and Sung Jin Min
Optometrists with dry eye patients who might be interested in participating in any of our research projects are encouraged to check our 'Current Research Projects' on the OSL website (scan QR code about or visit tinyurl.com/OSLrecruit), email a.muntz@auckland.ac.nz or call us on 022 EYE PAIN (022 393 7246) for more details.
I hope you enjoy this, our seventh Dry Eye Special feature which aims to share both our work and that of our many collaborators overseas as we all continue to strive to work together to improve the diagnostics and treatments for the world's many dry eye sufferers.
For more and to see the Dry Eye 2021 special feature in its entirety, visit: eyeonoptics.co.nz/optometry/dryeyeupdate/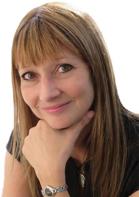 Professor Jennifer Craig is head of the Ocular Surface Laboratory, vice-chair of TFOS DEWS II, chair of the new TFOS Workshop, clinical editor of NZ Optics' annual dry eye special features, and a therapeutically qualified academic optometrist in the University of Auckland's Department of Ophthalmology, New Zealand.