WSPOS: embracing new possibilities
Rather than bemoan the cancellation of in-person meetings due to the Covid-19 pandemic, the World Society of Paediatric Ophthalmology and Strabismus (WSPOS) opted to fully embrace the possibilities of the virtual format this year. Although there is no substitute for face-to-face interaction, the virtual conference format makes it easier to bring global educators together. In fact, one of this year's key messages was that expertise is not centred in any one part of the world.
In keeping with this philosophy, and given the success of WSPOS' first foray into virtual conferencing last year, this year's programme was again spread out across 24 hours, allowing for sessions in each of the world's main time zones. Conference attendees could watch live if the time was suitable, or later on demand. Presentations were pre-recorded and at the end of each session there was room for live discussion between the moderators and the speakers in a Zoom meeting format. Questions from the audience could be logged in a chat room and were managed by the moderators.
The main programme had 12 sessions encompassing a total of 59 talks, mixed in with three keynote lectures and three industry-sponsored symposia. Available on demand were an additional 70 free papers, 53 posters, 26 videos and two industry satellite sessions. The organising committee was well prepared this time around, with one of the big changes being the clever, interactive homepage. Made to look like the lobby of a conference venue, this reception area allowed you to 'walk' into different conference rooms for different sessions. The free papers, posters and videos could also be navigated by topic, making it far easier to find areas of interest. There was also no delay for on-demand presentation viewing this year.
Dynamic optotypes, home assessments and other highlights
As expected, there was a big emphasis on myopia progression, a topic that is now unavoidable. Other themes demonstrating the times we live in were advances in artificial intelligence (AI), the use of new phone-based apps for diagnosis, and complications from Covid-19 infection or vaccination.
One highlight was the free paper, 'The dynamic optotype (Dyop): a novel visual acuity test for use in children' by Guy Barnett-Itzhaki¹, president of the Israel Orthoptic Society. Visual acuity testing hasn't changed much since it was first invented by the Dutch ophthalmologist Herman Snellen in the 1860s. The presenter described the Dyop as a spinning, segmented, circular visual target with contrasting segments and gaps (typically black and white) which provide a strobic stimulus to the photoreceptors of the eye. When the Dyop's moving gaps and segments become too small, their strobic stimulus cannot be detected by the eye's photoreceptors, providing a distinct visual acuity level.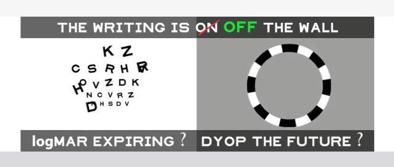 Dyop, a novel VA test
Two related papers, 'Validation of paediatric visual acuity testing at home using smartphone applications' by Sharon Schwartz from Israel; and 'Tracking changes in vision at home' by Anna O'Connor from the UK, also stood out. With the ongoing pandemic and need to replace face-to-face clinics with virtual appointments, testing visual acuity at home has become a field of interest. Such testing can be very challenging, especially in children, and requires significant cooperation from parents. However, this almost certainly is the way of the future.
Although the strabismus sections were still dominated by ophthalmologists and surgical approaches, the increasing presence and input from leading orthoptists was especially encouraging to see at this year's conference.
At the time of writing, I still have a few more sessions to explore online (at a convenient time with a cup of tea and some biscuits to hand!), so it's fortunate that the content is available until the end of this year. This, and the ability to watch sessions again. is a great benefit. However, I am looking forward to a conference where I can reconnect with colleagues and friends from overseas once again.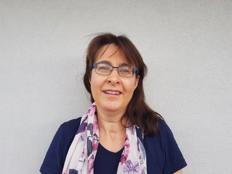 Miriam Langeslag-Smith is an orthoptist who originally trained and worked in the Netherlands before moving to New Zealand several years ago. She completed a Master of Science degree in 2013, focusing on amblyopia and vision screening, and currently works for Counties Manukau Health in South Auckland.