Style eyes: Safeguarding your inventory
Optical retailers spend an enormous amount of time selecting inventory for their locations, not to mention the monetary investment that is involved. Isn't it only fitting that the same amount of care is taken in protecting your investment?
We live in a time where theft is a real issue, so here's a few tips to help you keep your precious inventory safe and sound.
Everything in its place
Whether you display your frames on a traditional frame board or use the artistic 'freestyle' method, there should be some sort of organisational plan involved. Make a layout for your store and stick to it. For example, all optical frames displayed together, sorted by brand. You can then separate them by ladies' or gents' styles.
The point is to have a system in place that makes sense to the staff and the consumer. It will make finding a specific style easier in the long run and ensure that a frame can easily be placed back in its appropriate place in your practice. There are times we think a frame is missing, when in fact it has been placed where it doesn't belong within a display. So, knowing your inventory is key.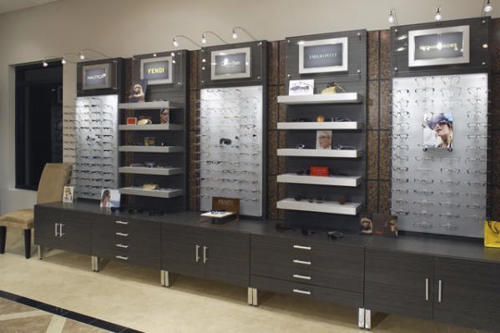 An open but organised display approach
Keeping count
Most of us are accustomed to doing inventory counts at a certain time of year. Whether you do an annual or quarterly stock take is a personal preference, but have you ever considered doing a daily inventory? It sounds impossible, but it's not as crazy as it sounds. We count our cash registers twice a day, why not our frames? Daily frame counts add an extra step to your opening and closing routine but are amazing for keeping everyone on their toes when it comes to safeguarding inventory. Here's how it works:
Create a spreadsheet of all the brands you sell (see example Daily Count Sheet picture)
Add an AM and PM to each date column at the top of the spreadsheet
Count the total number of units for each brand and record on the spreadsheet
Count your inventory every day at opening and closing.
The count should only be different in the PM if a frame from that collection was sold during that business day. If your count is different and no sale has been recorded, it's time to investigate the reason for the discrepancy
I've found whenever this spreadsheet was implemented, the amount of shrinkage (lost inventory) decreased substantially. It is a sure way to keep everyone alert and accountable.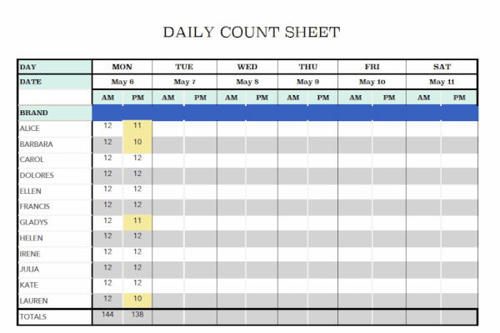 Example of a daily count sheet
To lock or not to lock?
I know many optical retailers who are very much opposed to having locks on any displays. They want the consumer to feel free to roam, shop and experience the frames at their own pace. In my experience, this is also the easiest way to lose a massive amount of inventory. I have experience with both the frame board (no lock) displays and a 100% locked inventory environment, and I prefer the later. Here are a few reasons why.
Firstly, when you have a shop where all the inventory is secured behind glass, the customer must ask for help. This is an amazing opportunity to interact and develop a rapport with the customer. You can find out what type of eyewear they are in search of and direct them to the appropriate collection to suit their needs. The salesperson is in charge of the shopping experience from the very start and the customer receives the benefit of being showered in personalised service.
Secondly, you can better safeguard the merchandise by handling it yourself. There are no fingerprints all over the lenses and the frames are treated more gently and with care. Using frame-showing trays in this environment is strongly suggested. It will help keep track of how many frames are being shown and also will keep the merchandise in prime selling condition.
Lastly, when all your inventory is locked, you can better see at a glance if any frames are missing or if they are not in the correct place. This also makes daily inventory counts very easy as well.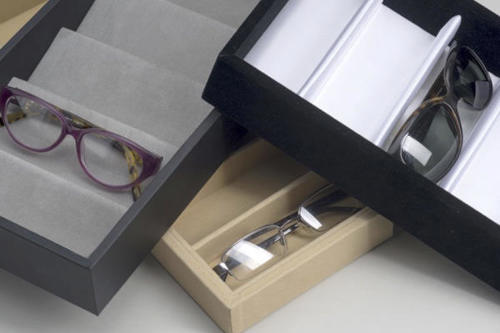 Frame showing trays
The eye in the sky
Last, but not least, security cameras (CCTV); you either love them or hate them. Security cameras have been a staple of the retail environment for a long time. The quality of the image in a good system is now amazing and the price has also reduced dramatically in recent years.
The question is, will installing a security camera act as a deterrent to potential theft? That is very much debatable. Some people feel that installing a camera in a prominent location, where it can be seen by all who enter, will make someone think twice about shoplifting. There are others who have installed systems and still experience theft. It all comes down to your reasons for installation. Will installing a security camera make you feel more secure in the work environment? Do you want to have a record for the authorities in case an incident occurs?
The impact on your customers and employees must be considered. Will having a security camera make your customers feel uncomfortable while shopping? Will your employees feel 'spied on'? Having signage to clearly indicate that you have a surveillance system and its intended use is mandatory in many places. Check local bylaws to see what is required before making the investment. But communicating your reasons for installing a system and how the information will be stored and used to your staff and perhaps your customers is very important and should not be overlooked.
Without your inventory, you would have no retail business. So, taking steps to keep all your merchandise secure is a big part of doing (and staying in) business.
Cynthia Pizzini-Martin is a retired luxury eyewear executive residing in South East Asia, who enjoys writing about all things optical and helping small businesses become bigger business with one on one consulting. For more, visit www.cpmretailconsulting.com