Pushing ophthalmic boundaries in a Covid-19 era
The 2020 annual Save Sight Society Symposium was held on 20 November 2020 on a gorgeous day in the City of Sails at the Fisher & Paykel Clinical Educational Centre at Auckland Hospital.
Possibly boosted by the opportunity to finally mingle again with one's peers, the one-day conference, Clinical pearls and updates with new science and perspectives in the era of Covid-19, attracted a large gathering of ophthalmologists, researchers and others interested in the latest ophthalmic research from this part of the world.
Save Sight Society chair Dr Leo Sheck, scientific programme director Professor Charles McGhee and the University of Auckland ophthalmology department organised a sensational day filled with high quality clinical and scientific talks from a range of New Zealand speakers. Dr Sheck kicked off proceedings by welcoming delegates and introducing the first speaker group who proudly presented their research interests and clinical experience.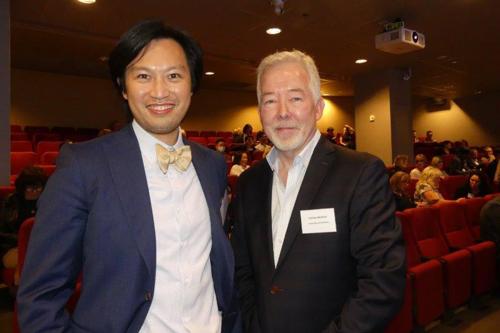 Save Sight 2020 conference organisers Dr Leo Sheck and Prof Charles McGhee
It is hard to summarise all of the fabulous talks, but there were some overarching themes from the day.
Covid-19: changing practices
It was no surprise that one conference theme was eye care in the era of Covid-19. Covid-19 was particularly at the forefront of delegates' minds, as Auckland had narrowly escaped another lockdown prior to the conference.
Across the country, Covid-19 lockdowns saw decreased patient hospital visits and increased reliance on community-based services. Several speakers discussed their experiences working with new models of care, creating guidelines for triaging patients and determining who needed in-person reviews.
Auckland-based ophthalmologist Dr Keli Matheos paid tribute to late Chinese ophthalmologist Li Wenliang. Dr Li Wenliang is credited for raising awareness of early Covid-19 infections in Wuhan and encouraging his colleagues to wear personal protective equipment (PPE). Unfortunately, he contracted and died of the virus himself on 7 February 2020, aged just 33.
Ophthalmic care can be challenging as patients with coronavirus are minimally symptomatic in the early stages and the risks are greater given the need for closer proximity with ophthalmic examinations. Hearing Dr Matheos talk about the estimated 10,000 healthcare workers who contracted Covid-19 and 7,000 who died globally reminded me of how privileged and fortunate we are in New Zealand. Our healthcare colleagues around the world are making challenging decisions while balancing optimal patient management with personal safety.
Dr Matheos also provided insight into how the Covid-19 pandemic could redefine future delivery of glaucoma care. She shared her fellowship experience managing glaucoma patients in Toronto, Canada, and highlighted reports from other cities. Glaucoma is the second leading cause of blindness globally and 22 people a month suffer permanent and severe vision loss as a consequence of delayed follow up, according to a recent UK study. To help counter this and other emergency eye care concerns, London's Moorfields Eye Hospital risk stratified patients, conducting approximately 100 online video consults a day. Meanwhile practices in Guangzhou, China, and Singapore similarly reduced clinic capacity by 50-80% by conducting online and offline consultations, all demonstrating how increased investigations in the community, coupled with virtual consultations could help minimise ocular morbidity from delayed care.
Later in the day, Dr Akilesh Gokul, an optometrist and University of Auckland research fellow, shared some real observations about using PPE for the first time, creating virtual consultations and trying to maintain social distance while examining patients in community-based optometry practices. Auckland-based ophthalmologist Dr David Squirrel discussed how artificial intelligence (AI) can be used to redesign services, allowing us to build risk calculators and allocate review periods appropriately.
It was clear that Covid-19 has changed our practice of care. One challenge going forward will be to see how we can continue to better utilise community and technological resources to prevent harm to our patients during difficult times.
The changing world of the anterior segment
Peppered throughout the day were intriguing talks on the history and current applications of anterior segment procedures. Dr Alex Crawford presented her work on iris melanomas and artificial iris implantation, using some interesting videos to discuss her surgical experience with the Human Optics' artificial iris. Surgical excision of lesions can be performed with a minimal iris touch excision (MITE) but leaves iris defects. Post-operative symptoms of this include photophobia, glare and haloes. The Human Optics artificial iris, a pigmented silicone elastomer, is one way to minimise these post-operative symptoms, she explained. The artificial iris can be placed in the capsular bag, sulcus or sutured in place. It will be exciting to see how this field develops!
We were also treated to discussions focused on various corneal procedures. Clinicians and researchers from Auckland discussed the use of corneal crosslinking, a corneal strengthening technique using riboflavin as a photosensitizer and ultraviolet-A light (UVA). It is particularly useful for halting disease progression in keratoconus and Down syndrome patients. Dr Mo Ziaei gave an overview of this technique and how it increases corneal rigidity in the anterior stroma and provides greater resistance to stretching and enzymatic degradation. He reviewed the various protocols, including the Auckland protocol using an excimer laser.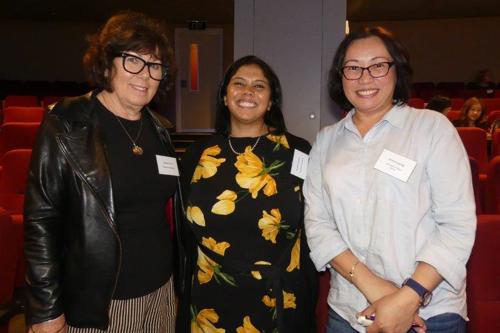 Angela Smith, Dr Ruhella Hossain and Gimma Lapinig 
Dr Corina Chilibeck looked at trends in New Zealand corneal transplantation using data from the New Zealand National Eye Bank (NZNEB). Nearly 7000 corneal transplants have been performed since the NZNEB's inception in 1989. The five most common indications were keratoconus, repeat graft, bullous keratopathy, corneal dystrophy and keratitis. Annually there has been an increasing number of transplants per capita per year and decreasing reports of bullous keratopathy. There was also an increasing number of penetrating keratoplasty (PKP) surgeries, likely related to New Zealand's high keratoconus rate.
As part of the anterior segment talks, I discussed the challenging ocular management of a two-year-old with a rare form of ectodermal dysplasia, Ankyloblepharon-ectodermal dysplasia-clefting syndrome (AEC syndrome). We managed his abnormal eyelid architecture, lagophthalmos and exposure keratopathy with bilateral anterior lamellar eyelid grafts and a corneal transplant after corneal perforation. Further episodes of recurrent bacterial keratitis and progressive corneal thinning necessitated a complete tarsorrhaphy of the right eyelids and a partial tarsorrhaphy of the left eyelids.
All of these talks highlighted the complexity of managing anterior segment pathology. The possibilities of managing pathology with corneal transplants and eyelid grafts, lasers and artificial prostheses is inspiring!
Uveitis cases, management and vitreoretinal surgeries
One of the assets of the Save Sight Society conference is the opportunity to hear some of the experts in their field. This year's uveitis talks were superb. Dr Rachael Niederer, ophthalmologist and University of Auckland senior lecturer, captivated the audience with some challenging uveitis cases, emphasising the importance of appropriate and timely investigations. Each case reminded us that associated systemic diseases and infections can be devastating in uveitis in all age and ethnic groups.
Dr Niederer and others also provided a raft of clinical pearls about investigating and managing complex uveitis cases. Dr Priya Samalia discussed using optical coherence tomography (OCT) scans in diagnosing retinitis. Full thickness retinitis, seen on OCT imaging, can be an ocular complication of Bartonella henselae, cytomegalovirus, Behçet's disease or syphilis. Delayed diagnosis can lead to worse outcomes, including retinal detachments. Another clinical pearl was the importance of careful investigation into the possibility of other systemic diseases in patients with uveitis and scleritis.
Dr Joevy Lim discussed mortality risks following uveitis and scleritis presentation. This study of 2,732 Auckland-based patients found idiopathic disease was the most common aetiology of one-year mortality. Sarcoidosis was the second most common cause of premature death and increasing mortality worldwide, while herpes zoster ophthalmicus (HZO) resulted in a higher risk of stroke and myocardial infarction.
Other presentations focused on the rates of retinal detachments in uveitis patients; the importance of urgent tap and inject followed by early pars plana vitrectomy (PPV) for infectious endophthalmitis; and clinical outcomes of patients with silicone oil post-PPV. These talks engaged the audience and reminded us of the importance of timely investigations and management in uveitis, scleritis and endophthalmitis.
Addressing inequity, ophthalmic training and workforce supply
Another theme from the day covered ophthalmic surgical demand, training and workforce supply. These were discussed alongside some of the problems New Zealand faces in providing fair, equitable and timely treatment for all.
Dr James McKelvie, a University of Auckland senior lecturer and Waikato-based ophthalmologist, discussed the problems and possible solutions to meeting the rising demand for cataract surgeries nationally. New Zealand's increasingly ageing population hints at an upcoming tidal wave of patients requiring cataract surgery and continuing clinic-based care for chronic ophthalmic conditions. Although some of our district health boards are considering prioritising Māori and Pacific Islanders for cataract surgery, Dr Ben Wilkinson showed how the current CPAC scoring system does not take patient ethnicity into account, while Dr Hannah Gill reported that New Zealand's current supply of ophthalmologists is unlikely to meet predicted population demands. These talks challenged the audience to think about inequities in current systems, improving access for patients and ensuring there are enough working ophthalmologists in our public sector.
Prof McGhee shared the University's long-running and ground-breaking research into optimising cataract surgery training while minimising surgical complications in teaching hospitals. He suggested methods to minimise the risk of intraoperative complications, including risk stratifying patients pre-operatively, microsurgical wet-lab training and practice using the University's virtual reality simulator*.
Conclusions
I was excited to attend this conference after a year of conferences cancelled or moved online. Although I enjoy watching people up their Zoom background game, nothing beats reconnecting face to face! The 2020 Save Sight Society conference was engaging, well organised and well attended. A tremendous thank you to the sponsors and the 2020 organising committee for the amazing job putting all this together! I look forward to seeing everyone at next year's conference!
*https://eyeonoptics.co.nz/articles/archive/virtual-reality-improves-surgical-training-patient-safety/
Dr Ruhella Hossain is a clinical research fellow at the University of Auckland's Waikato Clinical Campus, working under the supervision of Drs James McKelvie and Stephen Guest. She is one of the 2021 recipients of the Save Sight Society Heather MacKintosh Junior Researcher Award.
Presentation awards
Save Sight Society chair Dr Leo Sheck and scientific programme director Professor Charles McGhee commended all the speakers for their excellent presentations at the 2020 conference. Special honorary mentions were given to Auckland-based optometrist and PhD student Charisse Kuo for her talk, Characterisation of a novel human organotypic retinal culture technique, and Dr Hannah Gill for her discussion of Ophthalmology service provision in New Zealand: past, present and future. Dr Simone Freundlich was named runner-up for her two presentations - Predisposition to day one IOP spikes following cataract surgery and Microdroplet and spatter contamination during phacoemulsification cataract surgery in the era of Covid-19 - while Dr Alex Müntz was named winner for his novel data and "great" presentation, Extended screen time, blinking and dry eye disease in a young population*.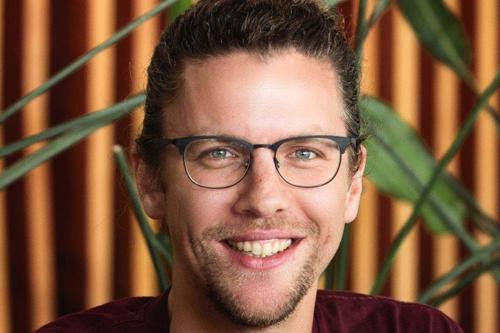 Dr Alex Müntz
The 2020 Save Sight Society organising committee also extended a special thank you to the day's sponsors: Bayer, OptiMed, Alcon, the Ophthalmic Instrument Company (OIC), Device Technologies, Medix 21, Stiltec, Toomac Ophthalmic, Tristel and the NZ National Eye Centre.
*For more on Dr Müntz's work see: https://eyeonoptics.co.nz/articles/archive/blinking-exercises-can-make-a-difference/ and https://eyeonoptics.co.nz/articles/archive/blink-tracking-20-a-new-era/