NZOSS 2021 in the rear-view mirror
This year wraps up the New Zealand Optometry Student Society's (NZOSS) ninth year as a student-run society. It has been a challenging, exciting and rewarding year to say the least, but we're glad to have made it to the finish line.
The first half of the year was highly eventful, kicking off with a weekend away at our annual NZOSS camp in Port Waikato, filled with beach runs, games and competitions. Next, we held an online quiz during an earlier level 3 lockdown. Prizes included designer sunglasses and free event tickets. Back in Auckland and in person, we held our Orientation BBQ at Outhwaite Park to welcome back all optometry students for the new year. Soon after, we headed off for our annual pub crawl – always hugely popular and a big success! To bridge the gap between students and the industry we were also able to hold our first educational seminar for the year, with all five of our sponsors presenting. As students, we love getting to know how the industry works, especially as it's not always covered in lectures. 
Right before the current lockdown commenced, we managed to squeeze in our second pub crawl and our first ever games night, where we invited everyone from the school to a chill night playing board games including Monopoly, Catan and Uno, all fuelled by pizza. During lockdown, the NZOSS committee also did its best to help everyone stay connected and on top of their optometry knowledge. We held our second educational webinar via Zoom, again presented by our sponsors which was another great way for students to interact with industry leaders. 
Our aim this year was to prioritise giving back to our members while providing a safe environment for students to work and build relationships. We are all proud to be part of NZOSS, so the executive team designed our own branded merchandise, with an updated logo on our own branded socks, tote bags, bottles and masks – all of which have been a huge hit!
This year has not been easy on any of us, as many of our plans and events fell victim to Covid. Therefore, to set up for future generations, we decided to work on our sponsorship proposal, allowing us to keep our excellent previous sponsors – Specsavers, OPSM, Eye Institute, Bausch and Lomb – and add Johnson & Johnson Vision Care for the first time. We are delighted with this achievement and we thank our sponsors for their ongoing support. 
During 2021 we also focused more on our social media, regularly posting on our Facebook page and introducing a new Instagram page as we hope to increase our following with more posts about upcoming events and community interactions. At the beginning of 2021 we also committed to donating at least $500 to Blind Low Vision New Zealand, and I am proud to say we followed through with that pledge.
It's safe to say this lockdown, being the longest yet, has taken its toll on everyone. But with vaccination rates heading in the right direction and the potential easing of the lockdown in sight, we hope to end this year on a high. The highly anticipated annual NZOSS EyeBall has been postponed to an unconfirmed date in December, while the final-year students' graduation dinner is also set to take place at the end of this challenging year (pending further level changes).
As we prepare for the end of this year and next year, I am looking forward to future societal efforts and am proud to have been involved in this very bright society. A heartfelt thank you to everyone on the team. So much work goes on behind the scenes to make this student society run and the whole team has worked particularly hard this year. I would also like to wish Georgia Cheng, my successor for 2022, all the best, and am sure NZOSS will continue to flourish.
Meri Kirihimete!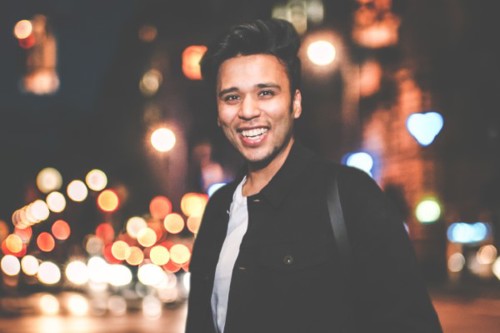 NZOSS president Rishi Khattar