CASE STUDY: For eyes that really pop…
A 34-year-old male was referred to the outpatient clinic with decreased vision in both eyes, which had remained stable over the preceding six months. He was in good general health with no medical or ocular history. He wasn't taking any medication and he denied any history of recreational drug use or sungazing. There was a family history of macular degeneration, with his mother having decreased vision from her mid-fifties. Ocular coherence tomography (OCT) performed by the referring optometrist revealed disruption to the outer retina.
Visual acuity was 6/9 in the right eye and 6/12 in the left. There was no improvement with pinhole in either eye. There was no pupil defect and colour vision was full at 13/13 Ishihara plates in both eyes. Ocular examination was unremarkable, with a good foveal reflex in both eyes. OCT revealed a disruption to the ellipsoid layer at the fovea (Fig 1). Fundus autofluorescence was normal (Fig 2).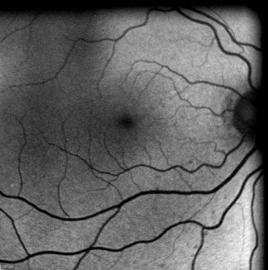 Fig 2. Fundus autofluorescence of right eye at presentation
Considering the OCT findings and the lack of clinical history (bar a possible family history of macular disease) a provisional diagnosis of occult macular dystrophy was made. Electrodiagnostic tests were requested and a follow -up arranged.
Unfortunately, the patient failed to attend his electrodiagnostics appointment. However, at his follow-up appointment six months later his vision had improved to right eye 6/9+1 and left eye 6/7.5. His OCT scan had also improved, with more distinct lamination of the outer retinal layers (Fig 3). At this point the patient admitted to a history of using 'poppers' (alkyl nitrites), a recreational drug, but said that he had not used it for the last six months.

Fig 3. Right eye OCT at six months
Discussion
This case demonstrates the classic symptoms and OCT changes seen with the use of poppers. Inhalation of poppers provides rapid-onset, short-acting euphoria and myorelaxation. These nitrate compounds were legal and easily available in New Zealand until March 2020, when they were scheduled as a prescription-only medication.
The exact mechanism by which poppers cause macula damage is unknown, though the causal relationship has been firmly established1, 2, 3, 4.
Symptoms have been described within hours of use in both men and women and development of symptoms is associated with increasing age and chronicity of use3.
Two key mechanisms have been proposed regarding the pathogenesis of nitric oxide toxicity and how it affects photoreceptors. The first postulates that this is similar to photic injury, with nitric oxide increasing photosensitivity1, 2, 5, 6. The alternate hypothesis suggests acute changes in ocular perfusion pressure may precipitate retinal injury, considering nitric oxide is a potent vasodilator7. The OCT findings in some cases show focal disruption of the ellipsoid zone centred at the fovea, other OCT patterns include a vitelliform form type picture and an outer retinal micro-hole8. These clinical and OCT features are also seen in solar maculopathies (Fig 4), so one would consider the photic excess hypothesis to be the more likely possibility5. Another differential diagnosis is occult macular dystrophy (Fig 5.), which often has an associated family history.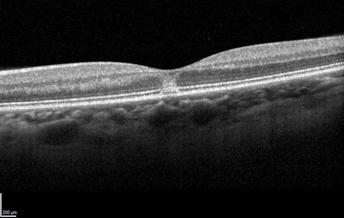 Fig 4. Solar retinopathy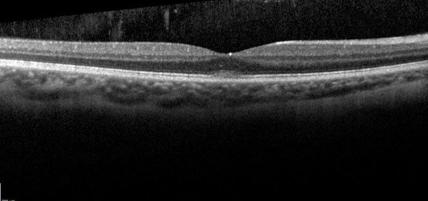 Fig 5. Occult macular dystrophy
In ascertaining the diagnosis in these patients, history is paramount. Often the diagnosis may only become apparent on repeated visits and very directed questioning. Ophthalmoscopy is often normal1, 2, 3.
As OCT becomes increasingly available in primary care, this condition will undoubtedly become more commonly recognised. Unfortunately, at present there is no accepted treatment regime and the prognosis is guarded3, 8. Treatments that have been tried include hyperbaric oxygen, high-dose oral lutein and even methylene blue (also known as methylthioninium chloride, a drug that increases oxygenation of blood)1, 9. Patients should be told to immediately stop using poppers when the diagnosis is made.
References
Vignal-Clermont C. et al. Poppers-associated retinal toxicity. N Engl J Med 2010; 363: 1583-1585
Audo I, El Sanharawi M, Vignal-Clermont C, Villa A, Morin A, Conrath J, et al. Foveal damage in habitual poppers users. Arch Ophthalmol. 2011;129:703–708
Davies A.J. et al. The prevalence of visual symptoms in poppers users: a global survey. BMJ Open Ophthalmol. 2017 Apr 3;1(1)
Davies A.J. Adverse ophthalmic reaction in poppers users: case series of 'poppers maculopathy.' Eye 2012; 26: 1479-1486
Fajgenbaum MA. Is the mechanism of 'poppers maculopathy' photic injury. Eye (Lond) 2013;27:1420–1421.
Tiew S.,Choudhary A. Poppers maculopathy or retinopathy?. Eye 2015; 29: 147-148
McCabe A, McCann B, Kelly P. Pop goes the O2: a case of popper-induced methaemoglobinamia. BMJ Case Rep. 2012 Nov 21;2012
Van Bol LB, et al. Clinical phenotypes of poppers maculopathy and their links to visual and anatomic recovery. Ophthalmology. 2017 Sep;124(9):1425–1427
Pahlitzsch M. Poppers maculopathy: complete restitution of macular changes in OCT after drug abstinence. Semin Ophthal 2016; 31: 479-484
Dr Shanu Subbiah is a consultant ophthalmologist at Eye Institute and the Auckland District Health Board, specialising in cataract and refractive surgery, cornea, anterior segment and medical retina.