AUSCRS – Virtually as good as the real thing
I'd hoped to have been reporting about fun in the sun, fancy dress and cocktails in Noosa, Queensland, for this year's meeting of the Australasian Society of Cataract and Refractive Surgeons (AUSCRS). However, like most meetings in the region, AUSCRS fell victim to travel restrictions and was transformed to a one-day virtual meeting.
AUSCRS conferences are without doubt the most fun, entertaining and brutally honest meetings on the ophthalmic calendar. For the last 25 years they've been championed by two well-known characters in the world of cataract and refractive surgery, Professor Graham Barrett, of intraocular lens (IOL) calculation formula fame, and Dr Rick Wolfe, a brilliant refractive surgeon, founder of VistaEyes Laser Eye Clinic and recently a cast member of The Real Housewives of Melbourne!
Part of the AUSCRS meeting magic is that the very best and brightest in the Australasian world of cataract and refractive surgery are dressed up on stage to look as ridiculous as possible. This levels the playing field – it's hard to have an ego when you're dressed in a safari suit (my 2019 costume) or pyjamas! The other enjoyable, if mildly terrifying, aspect of AUSCRS that draws a crowd is the honest discussion about presentations. It is not unusual to be grilled about your findings or hypotheses by both host and audience. This is a far cry from the more formal setting, dress-code and feedback you can expect at the American or European Societies of Cataract and Refractive meetings. Personally, I love this more relaxed setting, breaking down barriers and robust discussion. So a virtual meeting sure did have a lot to live up to!
AUSCRS' virtual magic
We are all tired of online webinars and meetings. There is generally very little interaction between speakers and the audience. Often you come off 'stage' and feel as though you've spoken to a vacuum. Any attempt at humour is especially difficult without human feedback. (If you've ever watched an episode of Friends without the laugh track, you'll understand the feeling.) AUSCRS, however, made some revolutionary changes that really improved the audience experience. Participants were able to mingle in a virtual lounge where they could join in with group video chats at various tables and, once assigned to a seat in the main auditorium, could speak to their row of colleagues as they would in real life. The ability to virtually move around the room and chat to individuals or groups was fantastic. The new platform worked beautifully, with multiple simultaneous video chats providing the most realistic virtual conference simulation I've seen anywhere.
From challenging cases to EDOF IOLs
With the conference packed into a single day, presentations from invited speakers were divided into four broad topics. AUSCRS was the first independent meeting to be awarded the Women in Ophthalmology and Royal Australian and New Zealand College of Ophthalmologists (RANZCO) gender tick, with more than 30% of presenters and chairs being women. The first session was all about challenging cases and complications. We heard about the stresses of zonular laxity and making appropriate IOL choices from Dr Lewis Levitz of Vision Eye Institute, Melbourne; why IOL exchange is not a trivial matter, from Bayside Eye Specialists' Dr Georgia Cleary; challenges of cataract surgery in eyes that have had previous phakic IOL implantation from Dr Barrett; and decision making in the horror situation of a posterior capsule tear while implanting a premium IOL from me (featuring a daydream sequence where as a surgeon, you imagine your complication may be so worrying that you should leave town and start a new life overseas). If this last part piques your interest, you can check out a snippet on my Instagram feed @drbenlahood.
The new virtual platform again came into its own during question time, when audience members could be brought up to the stage to ask their question via video. This was a huge improvement on other virtual conferences where keyboard warriors can lurk unseen and ask tricky questions without fear of interaction.
Session two was all about extended depth of focus (EDOF) IOL selection. With the options for IOLs exploding in recent years we have gone from monofocal choices alone to diffractive trifocal, refractive bifocal, extended range of vision, extended depth of focus, small aperture and monofocal-plus categories. Within these groups there are further options from different manufacturers. Choosing the right IOL is both an art and a science.
The expert panelists discussed their experiences with some EDOF options. Dr Brian Harrisberg spoke of his early experience with the RayOne EMV IOL, which has been developed with help from Dr Barrett. His data showed a good range of vision and similar visual results to the more familiar Vivity extended range of vision IOL by Alcon, which was described by Vision Eye Institute's Dr Gerard Sutton as being a very effective lens option. His colleague, Dr Uday Bhatt shared his experience with the IC-8 small aperture IOL from AcuFocus, which he reports as being forgiving of residual refractive error and allowing alignment-free astigmatism correction. My personal experience with this IOL is that it has been incredibly helpful for treating eyes with irregular astigmatism, such as those that have undergone radial keratotomy surgery.
Dr Andrea Ang of the Royal Perth Hospital and Lions Eye Institute discussed the concept of there being no free lunch with optics, where the more you try to achieve, the greater potential for side effects. Dr Ang presented an impressive collection of refractive outcomes using the Tecnis Symfony EDOF toric IOLs from Johnson & Johnson. While some visual side effects were noted, she had not needed to explant a single IOL.
Cutting corneas to the future
The cornea session at AUSCRS is always interesting as it generally focuses on new technologies that don't come up at more general ophthalmic conferences. The 'cutting corneas' session had some great Kiwi representation with Dr David Kent from Fendalton Eye Clinic in Christchurch talking about his experience with corneal ring segments. His results showed an average of more than four lines improvement in unaided visual acuity in patients suffering from the continuum of keratoconus to pellucid marginal degeneration.
Dr David Gunn from Queensland Eye Institute in Brisbane followed this by introducing us to the next generation of corneal ring segments with CAIRS* (corneal allogenic intrastromal ring segments), describing the addition of corneal tissue to the peripheral cornea rather than using a foreign material. Biocompatibility and treating a wider range of candidate eyes are the key benefits, though this method is still in its early stages. Associate Professor Michael Lawless from the University of Sydney brought things back to cases we might all expect to deal with in selecting IOLs for post-LASIK eyes, especially those with higher degrees of aberrations. Dr Tanya Trinh of Sydney Eye Hospital, having recently returned from her corneal fellowship at the University of Toronto, discussed her experience performing topographically guided laser treatments for eyes that have had dreaded post-laser vision correction corneal ectasia. This is a management strategy where we are still trying to predict the refractive outcomes of regularising the corneal shape.
AUSCRS has a tradition of looking to the future and the final academic session for the day embraced this by delving into futuristic devices and planning methods. Melbourne's Dr Nathan Kerr kicked things off by highlighting the benefits of 3D visualisation in the operating theatre. From my own experience using the Zeiss Artevo system, having the whole theatre team experience your view of surgery definitely helps the overall flow for the session. Fellow Adelaidean, Dr Aanchal Gupta spoke about cataract surgery in keratoconic eyes – one of the trickiest things to get right. She said she's had success assessing toric axis and power using the keratometry readings of the IOLMaster 700 from Zeiss. Melbourne Eye Surgery Associates' Dr Ben Connell shared some of the data he routinely collects from cycling with performance analysis in cataract surgery. His data collection software allows easy viewing of important measures such as complication rates and he said he feels this ongoing audit helps improve his outcomes. Dr Wolfe wrapped up the session by discussing the use of optical coherence tomography (OCT) in cataract surgery.
For many, the highlight of the live version of AUSCRS is a chance to catch up with colleagues over a drink or three. But virtual AUSCRS stepped up with a wine tasting led by world renowned sommelier and director of Dearth of a Salesman Wine Services, Wiremu Andrews. All attendees had been sent a bottle of wine to enjoy and learn a little more about the production process. Nothing quite beats meeting in person, but AUSCRS made a great effort at replicating the feeling of togetherness and provided a great catch up for the cataract and refractive surgery communities of Australia and New Zealand.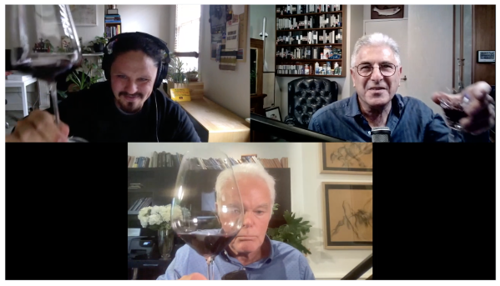 Prof Graham Barrett (top right) and Dr Rick Wolfe (bottom) raise a glass with sommelier Wiremu Andrews
This meeting is still my favourite conference in the world and we are all looking forward to a live in-person AUSCRS 2022 in Noosa (fingers crossed). Kiwis, book your flights now!
Recordings of all sessions are available for viewing online at www.auscrs.org.au/auscrs-conference.
*For more on CAIRS, see www.eyeonoptics.co.nz/articles/archive/cairs-trephine-now-in-nz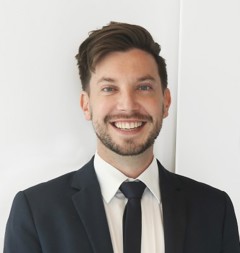 Dr Ben LaHood is an Australasian-trained consultant ophthalmologist based in Adelaide, with subspeciality fellowship training in laser vision correction and refractive cataract surgery and a special interest in astigmatism correction. You can hear more from Ben via his two ophthalmic-focused podcasts, The Second Look and Ophthalmology Against the Rule.