A spotlight on ocular allergies
Dr Shanu Subbiah welcomed more than 180 eyecare professionals to Eye Institute's most recent online seminar focusing on the eye and immunology. Setting the scene with a collegial, relaxed vibe, tuning in felt like being invited into the doctors' living room, listening to friendly chatter about the current Covid state of affairs while waiting for everyone to join.
First up, Dr Subbiah gave a talk on ocular allergies. Being severely atopic himself, he said he'd become quite an expert in the field! Allergic eye disease is very common and the incidence of seasonal allergic conjunctivitis (SAC) and perennial allergic conjunctivitis (PAC) is increasing, even in older patients in their 50-60s, he said. The cardinal symptom is itch and treatment is almost universally topical. Dr Subbiah's mainstay SAC and PAC treatment is dual-action agent Patanol (olopatadine) twice a day and one or two drops of Livostin (levocabastine) in the evening, with the second line of defence being topical steroids, oral antihistamines or immunomodulators. Eyecare professionals were told to watch out for rare but potentially sight-threatening vernal keratoconjunctivitis (VKC) with symptoms including more severe pain, itch and ropey mucus discharge; plus atopic keratoconjunctivitis, with similar symptoms to VKC and requiring shared care.
Busting allergy myths
Continuing the theme, guest speaker Dr Karen Lindsay, a rheumatologist, clinical immunologist and allergist with the Auckland District Health Board, gave an overview of allergic disease, diagnosis and treatments and shared some insights from the International Study of Asthma and Allergies in Childhood. The study busted a few allergy myths, she said, such as they only occur in affluent countries, are related to pollution and higher allergen exposure, and can be explained by genetics. The study, which included New Zealand, also revealed Māori and Pasifika suffer 2-4 times more by any measure. Many strong beliefs around allergies have been overturned during recent years, including the perception that families with high risk of allergies should avoid exposing their young children to allergens; the advice now is the contrary, said Dr Lindsay.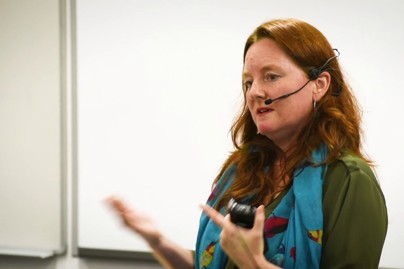 Dr Karen Lindsay
Identifying the unusual
Dr Sophie Hill, Eye Institute's newest consultant, covered anti-VEGF-induced uveitis. Although a rare cause (<0.5%), the widespread use of anti-VEGF has increased the prevalence and recognition of the condition, she said. Different anti-VEGF agents have different rates of post-injection inflammation and the more injections a patient has, the higher the risk of inflammation (doubling after two years of therapy). Patients with a history of inflammation, on proinflammatory drugs such as prostaglandins, or with neovascular age-related macular degeneration have shown to be more prone to inflammation. Factors such as delivery specifics (syringe and injection technique), formulation of the drug, presence of immunogenic properties and endotoxins also impact the risk profile, said Dr Hill. Interestingly, one small subset of patients has been found to have anti-idiotype antibodies against the anti-VEGF antibody, she added, prompting caution when using brolucizumab, which has been associated with high rates (43.7%) of anti-drug antibodies in treatment-naïve patients.
Professor Helen Danesh-Meyer shared cases illustrating the new and rare inflammatory conditions neuromyelitis optica (NMO) and myelin oligodendrocyte glycoprotein antibody disorder (MOGAD). Patients with typical optic neuritis, often associated with multiple sclerosis, generally have a favourable prognosis with good visual recovery regardless of treatment. In contrast, lack of visual recovery is a marker of atypical optic neuritis, including NMO and MOGAD. If left untreated, these can lead to devastating visual results, said Prof Danesh-Meyer, so it's crucial optic neuritis cases are referred urgently for further tests, treatment and close follow-up. High-risk optic neuritis patients include those who present with bilateral, profound and recurrent vision loss, are non-white, show chiasmal involvement or a long segment on magnetic resonance imaging of the spinal cord.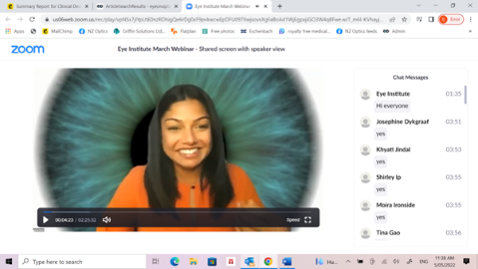 Dr Narme Deva
Wrapping up, Dr Narme Deva covered infectious posterior uveitis, while Gisborne-based Dr Graham Wilson discussed diagnosis and treatment of uveitic glaucoma, including controlling intraocular pressure (IOP). The standout summary of the day was Dr Wilson explaining the rise of IOP as a "pretty straightforward case of ocular plumbing", with IOP rising in uveitis patients due to reduced outflow.