Déjà view - Retro re-vamps underpinned by new tech were hot at Silmo
Maarten Weidema says he feels like he's seen it all before; that might be because he has. But this isn't a bad thing. "Corona was a period of crisis and when there is a crisis, people like to go back to what they know and what makes them feel safe," says Weidema, independent eyewear designer and founder of The Eyewear Forum online magazine. "At the same time, people have had time on their hands. So what we are seeing are some brilliant reboots and re-launches of retro styles, but with the futuristic add-ons of new materials and production methods."
Spearheading this trend is ProDesign Denmark, which turns 50 in 2023. Like many of us approaching a significant birthday (and an impending mid-life crisis), the company has decided to start its celebrations early. "We will be releasing four modernised versions of an iconic design from our back catalogue between now and the spring of 2023," says ProDesign sales director Lars Toftdahl. "We're starting with Gail Spence, a 1987 frame that was so popular we still get people asking us for it now. It was the perfect one to do first."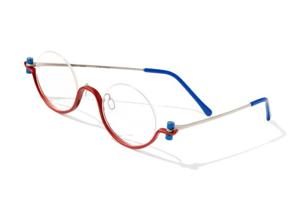 Gail Spence today
The Gail Spence frame comes in a half-moon reading glasses style and full circular lenses for both optical and sun, with a unique cylindrical feature at the hinges. Working alongside Spence to perfect the reboot, the new capsule collection uses titanium for comfort and strength, while the inversion of the lenses and the curve of the frame have been improved. Those bold, '80s blocky colours, however, remain front and centre. Toftdahl says ProDesign is working with selected opticians and distributors, including Australasia's Eyes Right Optical, on the design's Northern Hemisphere autumn release.
Reboot on the other foot
Another great reboot comes from Face à Face. Its Bocca capsule collection, launched eight years ago, won stylish hearts worldwide with the adorable human feet at the ends of its spectacle arms. This year sees the release of a pixelated version of the shoes to contemporise the range. The company's 'Colour is Light' range is a beautiful reworking of classic styles, using colour to illuminate the face. The Zenit frame, for example, offers an accent of colour on the top bevel of the frame, while Neonn layers colour between two matt metal plates, so every angle of the glasses looks different. As always with Face à Face, it's all about the details.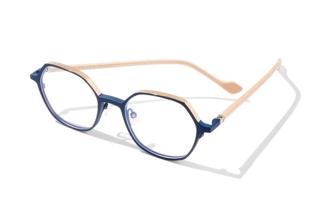 Zenit
On Caroline Abram's stand, art director Léa Gomez talked me through their new, more affordable 'Blush' collection whose details deliver pizazz. These simple, colourful acetate frames offer a contrasting matt to gloss bevelled edge that you don't notice until they catch the light. "They were designed as sunglasses but they are just so great as opticals," says Léa, trying on pair after pair to demonstrate. "They're so much fun, I can't stop wearing them!"
Caroline Abrams' Icon collection is another reboot special. "Here, Caroline is exploring '60s vintage," explained Léa. "They're all oversized frames, with four distinct shapes recognisable from that era." Each has an acetate 'jewel' and the same matt/gloss bevelled edge as Blush. These shapes are also available in metal, offering a more understated approach. "They're thin but offer bold colours," said Léa. "Each right corner has a contrasting colour – again it's fun."
Meanwhile, Talla designer Gianluca Gualandi is getting nostalgic with his men's range of sunglasses and opticals. As well as a fun Starsky & Hutch-inspired take on sunglasses style, he launched Arabesco, a quirky, asymmetric collection where no two angles are the same. Inspired by his favourite designer Carlo Mollino (who designed a beautiful, Salvador Dali-esque curvilinear coffee table in 1949 called Arabesco), this collection is technical and sophisticated, a functional and versatile statement piece.
Brands sticking their tech out
Where some brands have gone nostalgic, others have gone clean and technical. Alium's strong, technical frames were previously a range within Face à Face but launched as a standalone brand this year. Metal up front with acetate temples, the focus is on clean lines and subdued colour accents for a masculine, professional look.
A collaboration between Mykita and Leica was also being displayed at Silmo 2021 for the first time, having cancelled their Mido launch last year. Using high-end camera technology for a clear, responsive lens, the frames themselves are also inspired by DSLR cameras, with red accents evoking the focus ring around a camera lens.
Woodys' The Mob collection of sunglasses and optical frames have a more classic design, inspired by the Sicilian Mafia. The use of hand-polished acetates with tiny, engraved details, and lenses by Carl Zeiss Vision, stepped them up into the technical bracket.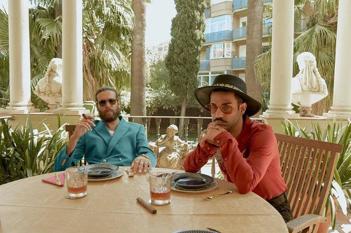 The Mob
Winner of the 2019 Silmo d'Or Premiere Classe award, Lightbirds returned to Silmo this year with a collection of 12 new frames across their 'Light Social' collection. Sticking close to their minimalist design roots, the frames offer straight lines and muted colours for a sophisticated look. A QR code on the temple gives access to LightNest, connecting the wearer with the Lightbirds brand and the customer's optician.
Core start-up innovation
Over in Silmo's Village Start Up area, I found three amazing new companies making innovative inroads into the optical world.
Vuböks' sleek lens-dispensing unit caught my eye first. This French-designed contraption won a silver award at the Lépine 2019 contest and offers a stylish and practical way to store daily disposable contact lenses and glasses. As well as looking lovely in any bathroom, the unit has a QR code for easy product re-order. For optometrists who'd like to have the unit in store, Vuböks branding can be replaced with your practice's branding.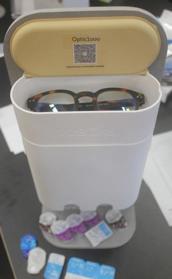 Vuböks' optic dispensing unit
Originally designed for the fashion industry, Style Pttrns' virtual matching software for optical frames was launched in July this year. But this is not virtual try-on software, stressed strategy director Jelle Stienstra. "We employed fashion stylists to teach the artificial intelligence (AI) how to recommend glasses that match a client's face for comfort and wearability. The AI analyses 24 facial features and makes recommendations from the catalogue of available frames uploaded to the system."
Once you have your list of AI-recommended frames, you can then edit the selection by choosing subtle or bold frames, specific colours or particular brands. The deep learning algorithm continues to learn and improve its understanding of faces and frames, while at the back end a stock-management system makes sure you never pair a customer with a frame that isn't available. "It was developed for online use, but we are working on a kiosk for instore at the moment," said Stienstra.
Last but not least was Lexilens by Abeye. A 2019 Silmo d'Or winner, these glasses are based on research that shows dyslexia is aggravated by a lack of a dominant eye. If both eyes are transmitting primary images, the message to the brain becomes confused. Lexilens neutralises the mirror image, allowing people with dyslexia to process words faster and more clearly. Although it doesn't work for everyone, Abeye said it has had 96% positive feedback from 2,000 users in 15 countries.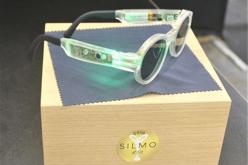 Lexilens