Along with everyone else, more than a year ago now, New Zealand's optometry practices were thrown into turmoil amid a nationwide lockdown. Returning to practice a few months later, our dispensing methods had to adapt to new guidelines set by the Ministry of Health (MoH). United with optometrists, dispensing opticians (DOs) made a commendable effort to reform their processes, which now included telehealth, social distancing, face masks and personal protective equipment (PPE), sanitisation protocols and contactless service delivery.
Initially, optometry was classified as a non-essential health service and practices had to close. When working from home at alert level 4, New Zealand's DOs were urged to use the downtime for some online training to upskill with continuing professional development (CPD). They were also encouraged to assist their business owners in creating a business recovery plan, especially with regard to the way DOs would manage patient contact in the retail part of the practice, such as creating procedures for disinfection of workstations, frames and adjustment tools.
Eyecare at arm's length
When practices were allowed to reopen for emergencies, we quickly adapted to performing virtual triage to classify the 'emergency' before proceeding with any repairs or replacement of eyewear. Apart from understanding what the different alert levels meant for our daily lives, we had to further clarify what it meant for DOs in the workplace. There were limitations, of course, since the patient could not physically visit the practice to browse frames or get a prescription update until restrictions relaxed. For each alert level, MoH supplied guidelines that took time to interpret and apply, and we were forewarned about the surge in demand for health services awaiting us when we returned to alert level 2.
The dispensing process is so tactile and we work closely with the patient, so we really had to control our natural instinct to approach them – frame adjustments had to wait until lower alert levels. In the absence of in-person visits, consumers became aware of telehealth alternatives. Smartphone users uploaded photos of their eyewear, for example, for the DO to assess prior to an in-person visit. This was new to all of us, but will likely continue.
Floor markings indicating where the patient could stand within the retail space became the norm, as did counters acting as physical barriers. If patients tried a frame, it had to be disinfected, and masks became part of the uniform for both dispenser and patient. Of course, for a spectacle wearer, trying to work behind a mask has its own challenges!
Embracing new norms
In recent years, practices have introduced increasingly sophisticated digital dispensing tools, with hand-held measuring devices and centring tower systems allowing us to maintain social distancing. The pandemic nudged the profession towards these tools, which many DOs are now more willing to embrace and incorporate permanently into their routine.
However, many areas outside a practice's control were also affected by the pandemic. Supply chains, for example, were impacted. Local couriers were overwhelmed, resulting in delivery delays that necessitated far more communication between the DO and patient. The silver lining was that this created an opportunity to explain to patients the benefits of having a back-up pair of spectacles!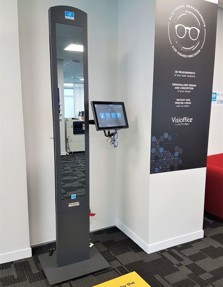 Essilor's Visioffice 2, one of many new tools helping DOs to more accurately take patient measurements without contact
Educational impacts
As president of the Association of Dispensing Opticians of New Zealand (ADONZ), I also oversee those training to become accredited DOs in New Zealand. In 2020, although students managed to continue their theory studies online, their practical workshops had to be postponed. Since our main education provider is Australia-based, this placed additional limitations on progress. Some students were unable to complete their studies in the desired timeframe, which inevitably will have knock-on effects on the number of students graduating and registering. Low trainee-DO intakes this year, also a likely consequence of the Covid pandemic, is likely to compound the problem, leading to a significant shortage of qualified DOs – a concern already justified by the number of DO job ads at the moment. At least the opening of the trans-Tasman bubble brings hope that our students can catch up on education workshops to help bridge this gap.
Though we continue to offer online CPD lectures for ADONZ members, we are relieved that our CPD cycle was extended by a year, allowing us to postpone the annual conference until October 2021. While this is primarily an opportunity to gather and acquire knowledge, it's also an occasion to exchange ideas with fellow DOs in a social environment and celebrate the students who have waited a full year for their graduation ceremony. I predict that this year's conference discussions will reveal some novel coping mechanisms DOs used to combat workplace stress during the pandemic. I wonder too if our international guest speakers and educators will be able to join us, as it would be interesting to learn about their experiences of Covid-19 and how they differed at a practice level.
Indispensable dispensing opticians
Since emerging from lockdown, the New Zealand eyecare industry has demonstrated an ability to bounce back strongly. From the consumer's perspective, the last 15 months have also highlighted vision care as an essential service, especially as an increase in screen-based activities has contributed to the demand for our services.
Through this entire experience, the core of dispensing has not changed. But growth in the use of digital dispensing tools and telehealth alternatives, our improved awareness of infection protocols and the importance of looking after the wellbeing of our colleagues, our patients and ourselves are hopefully here to stay. While pinning our hopes on vaccines, let us also take a moment to acknowledge the optimism and perseverance that carried us through the last 15 months, because it's this flexibility and resilience that will see us thrive into the future.
Vineet Chauhan is an accredited dispensing optician with more than 20 years' experience working in the eyecare industry and president of the Association of Dispensing Opticians of New Zealand.