Celebrating an ophthalmic nursing champion
The force behind many pivotal moments in ophthalmic nursing in New Zealand over the past 30 years, Sue Raynel spent her nursing career campaigning for change for better patient care. With retirement looming, Louise Wood took a look at just some of these achievements.
Sue Raynel recently stepped down as an ophthalmic nurse with the Department of Ophthalmology and research and as development manager at the New Zealand National Eye Centre (NZ-NEC) at the University of Auckland, a role she'd held since 2006. A registered nurse since 1976, Raynel completed her training in Rotorua before taking her ophthalmic nursing diploma in 1980 in Edinburgh (when cataract patients stayed in hospital for 10 days!).
Education and exploring advanced practice roles have been a key focus of Raynel's career, both for herself and others, and she became a champion of ophthalmic nurse education after gaining her own Master's degree from Victoria University in Wellington in 2000.
From the Wallace block to Greenlane
Her Master's focused on the implementation of nurse-led clinics at the Greenlane Clinical Centre's predecessor, the infamous 'Wallace block' eye department in Auckland Hospital, which Raynel managed at the time. Back nearly 30 years ago, this was somewhat different to the eye clinics we know today, with cataract patients staying for two nights in a 30-bed Nightingale-style ward, for example. Extracapsular extraction was the standard cataract procedure which produced a larger wound than phaco and patients wore glasses post-operatively with strong magnification, Raynel recalls, while intraocular lens technology was still in its infancy.
The Wallace block eye department at Auckland Hospital
During her time as manager of the Wallace block, however, Raynel successfully campaigned for extra funding to improve patient care and advance nursing practice, introducing trials of nurse-led clinics which proved to be a very effective, both economically and for managing patient volumes.
"Sue and I first met when she was the manager and I was the clinical director of ophthalmology at the Auckland District Health Board (ADHB)," recalls Professor Charles McGhee, chair of Auckland University's Department of Ophthalmology and NZ-NEC director. "Over seven years she helped introduce major changes to the ophthalmology service. She was also part of the momentous move from the much loved, but decrepit Wallace block to the Greenlane site."
Ophthalmic advanced practice roles and nurse practitioners
In 2000, the Ministry of Health instigated the New Zealand Health Strategy, making money available for innovative new protocols in ophthalmology, with the hospital obliged to permanently adopt any successful changes. Raynel used the funding to help introduce advanced nursing roles into ophthalmology in New Zealand, which was no easy task. Advance practice roles help ease patient waiting times to better manage the ever-increasing workload in our healthcare system and bridge a care gap for patient groups, such as glaucoma or macular degeneration patients, who need expert assessment but don't require a consultant. Nurses undertaking advanced practice roles have completed post-graduate certificates or diplomas, with nurse practitioners (NP) having completed a Master's in nursing. NPs must also have worked in an area at an advanced level for at least four years and be registered with the Nursing Council after an intensive portfolio assessment and oral interview.
NPs are, as a rule, speciality focused, so convincing the Nursing Council that there was more than enough breadth and depth in ophthalmology to allow ophthalmic nurses to become nurse practitioners was a hard-won battle, explains Raynel. Now the country has several ophthalmic nurse practitioners, something Raynel says she's very proud to see and hopes numbers will continue to increase as ophthalmic nurses help shoulder the ever-increasing workload of their ophthalmology colleagues.
Training nurses to bridge the care gap
In 2006 Raynel left the ADHB and took up the new role of research and development manager at NZ-NEC. There, she was instrumental in research and teaching and developed several ADHB post-graduate teaching courses and clinics within the Ophthalmology Department, the School of Optometry and Vision Science and School of Nursing. Raynel says the role afforded a good balance between clinical nursing and a greater understanding of the research process.
Raynel participated in a 2010 Ministry of Health eye health workforce review, which projected a worrying shortfall of trained doctors in ophthalmology concluding that appropriately trained nurses would be required to step in to help manage patient care. This made more funding available for nurses to undertake post-graduate education, which led to today's clinical nurse specialists and nurse practitioners becoming an integral part of the ophthalmic team in an outpatient setting, says Raynel.
New Zealand's first ophthalmology nurse practitioner Carol Slight, who qualified in 2007, says Raynel was a "ground breaker" who worked tirelessly behind the scenes to help develop advanced nursing roles and was instrumental in writing up their protocols and methods.
Fiona Bamforth, another ophthalmic nurse practitioner, based in Northland, echoes those sentiments, pointing out that New Zealand is now leading the way, especially compared to our Australian counterparts, with nurse-led clinics for anti-VEGF injections, AMD, glaucoma, minor surgery, uveitis, diabetes and YAG capsulotomy in hospitals throughout the country. Raynel was a huge influence on that sea change, she says. Prof McGhee concurs, adding that Raynel was an energetic and positive role model for New Zealand's ophthalmic nurses. "She has pushed for new and challenging roles for nurses throughout her career."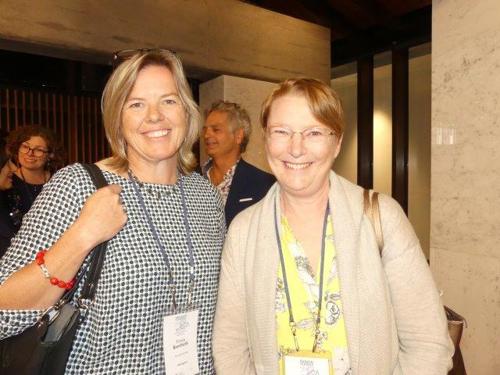 Fiona Bamforth and Carol Slight
From antiques to anti-VEGF
Technology was limited when Raynel first took the reins at the Wallace Block in the 1990s, with Raynel admitting with a smile that many of the instruments she used are now housed in the Auckland University museum! During her career she has witnessed the introduction of intraocular lenses, optical coherence tomography, the iCare tonometer, anti-VEGF injections, treatment lasers, scanning technology and biometry – all of which require training and guidance for practitioners. Raynel created pathways for nurses to keep up with those leaps in technology, say her colleagues, and she remains an influential mentor, having worked alongside the University of Auckland School of Nursing to develop post-graduate ophthalmology training for nurses.
Slight says, "I don't think I'd be in my role without Sue working in the background to establish a pathway for these roles and other advanced nursing roles." Bamforth agrees, adding, "Sue has had a direct impact on my career development, and I'm not alone in that."
In her time at NZ-NEC, Raynel has also published papers on her investigations into the evolution of advanced roles in ophthalmic nursing to improve patient outcomes and keep up with the ever-increasing demand for specialist eyecare. She also worked closely with the late Professor Janet Marsden, a nurse and professor of ophthalmology and emergency care at Manchester Metropolitan University in the UK, who was a regular visitor to our shores and was influential in driving significant change in ophthalmic nursing both here and in the UK by championing the team approach in ophthalmology. Demonstrating their mutual respect, Raynel contributed to Prof Marsden's book, Ophthalmic Care, a core text in Auckland's post-graduate courses. She's also always been a strong supporter of other nurses pursuing research goals, helping them with publication by guiding them through the process and ensuring good content and flow, says Slight.
Though she's retired as NZ-NEC manager, Raynel intends to remain busy working part-time in ADHB's ophthalmology department. She's also investigating service delivery workshops for her more junior colleagues to highlight some of the issues that impact the efficiency of an ophthalmic service, and she intends to continue to campaign for New Zealand's ophthalmic nurses to get together, get involved and have their voices heard. Following in her footsteps, she also says she hopes New Zealand's ophthalmic nurses will continue to develop their skills so they can have an even greater impact on patient care in the future.
"Sue has been a great friend and a driver of change. The success of the Department of Ophthalmology and the New Zealand National Eye Centre is in no small part due to her unstinting contribution," says Prof McGhee. "We are unlikely to see anyone in the foreseeable future with her wit, tenacity and comprehensive view of nursing, ophthalmology and healthcare in New Zealand. She is one of a kind and we cannot even attempt to replace her!"
Louise Wood is a therapeutically qualified optometrist working at City Eye Specialists in Auckland, New Zealand and is a regular contributor to NZ Optics.