OPTOMETRIST - Tauranga, Bay of Plenty
Bailey Nelson has an exciting opportunity in our store in Bayfair Mall. You'll get to work with an awesome team, and be a stone's throw from the stunning Mt Maunganui beach, cafes and that easy Tauranga lifestyle!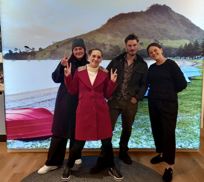 The Bailey Nelson Bayfair Mall team
We've got new equipment, including 4-in-1 auto-refractor, automatic phoropter, retinal camera and visual fields, and offer leadership opportunities, training and support to develop you as an optometrist, a leader and well-rounded human.
Competitive salary for the right person plus attractive incentive scheme with monthly, quarterly and annual bonuses for achieving sales and wage targets. Relocation support available. 
Send your CV and cover letter to Shay Zhang shay@baileynelson.com.au to join our experienced and personable retail team.